By Uditha Jayasinghe

Insurance claims from the disastrous floods in May are piling up, with the industry gearing up to pay an estimated Rs.16.5 billion, topping the amount disbursed after the tragic 2004 tsunami.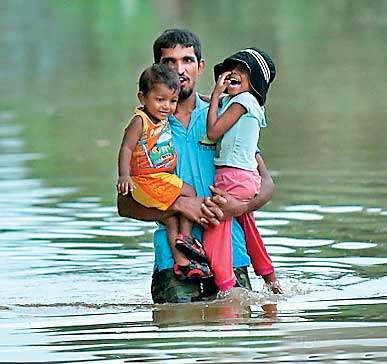 National Insurance Trust Fund Chairman Manjula de Silva told Daily FT the insurance claims supported by the industry after the tsunami, nearly 12 years ago, amounted to about Rs.15 billion. However, the floods hit more commercially-valuable areas, including several factories and warehouses in the Biyagama Free Trade Zone that borders the Kelani River.

"We estimate total claims will be about Rs.16.5 billion. However we are confident that the industry can meet these payments because all companies are required by law to be reinsured. Under current law it is mandatory for all insurance companies to place 30% of their reinsurance under the National Insurance Trust Fund while the rest can be placed elsewhere, usually under foreign entities," he said.

Under this measure the National Insurance Trust Fund currently expects to provide Rs.5 billion to various insurance companies to fulfil their responsibilities. The Fund itself is also reinsured to protect against a massive disaster and will fund Rs.4 billion from its reinsurance while the remaining Rs.1 billion will be from the entity's own funds.
De Silva noted that since the floods receded nearly Rs.250 million has already been paid by the Fund to insurance companies to meet their client payments.

"We expect most of the claims to be cleared over the next two weeks. The larger claims could take longer as they can be more complicated. Some insurance policies in addition to covering damage also compensate revenue losses from operations being stopped after a natural disaster and these have to be carefully evaluated. Insurance companies are also consulting with foreign experts to calculate such claims," de Silva explained.

De Silva acknowledged that disputed claims could rise but insisted the industry would rally to honour payments. Insurance companies could suffer losses as the claims mount up but de Silva insists the situation will be "manageable".

Some of the bigger claims are likely to come from Lion Brewery and the Coca Cola plant that was floodaffected, noted de Silva, adding one of the highest claims had come from a company that had stored tea shipments at a warehouse near the river. Other commercial entities along the river could also file claims in the tens of millions.

However, the National Insurance Trust Fund is yet to get any claims from the Salawa ammunition dump explosion, possibly because mostly residences rather than businesses were affected by the disaster.