Hatton National Bank's Deputy General Manager -Retail and SME Banking Thimal Perera is tipped to join DFCC Bank as its Deputy CEO.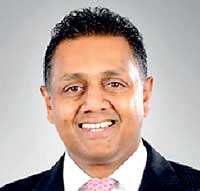 A formal announcement hasn't been made yet about Thimal joining DFCC or quitting HNB but Thimal last week resigned the posts of Director of HNB Assurance and HNB General Insurance according to a filing to the CSE.

A banker by profession, Thimal has over 20 years of banking experience with foreign exposure in the Middle Eastern and the Northern African regions.

Thimal joined HNB in July 2014 after leaving Barclays Bank Plc UAE as Product Director. During his career at HSBC, he held responsible positions including Head of Marketing and Public Relations, Head of Card Issuing and Operations and Head of Credit Cycle and Risk prior to his appointment as Head of Cards Sri Lanka and Maldives.

Thimal has extensive experience covering several large international markets including Commercial Bank of Qatar in the capacity of Head of Cards, Saudi British Bank – HSBC, KSA as Head of Cards and Consumer Finance, and Regional Head of Cards and Direct Channels of HSBC (Middle East) overseeing MiddleEast, North Africa and Pakistan.

Thimal is a member of the Institute of Chartered Accountants of Sri Lanka and a finalist of the Chartered Institute of Management Accountants (CIMA) – UK.