By Shehana Dain

Reaffirming its stance to continually push for better financial performance, Hatton National Bank's MD/CEO Jonathan Alles told the Daily FT that HNB is currently eyeing funding opportunities in the Maldivian leisure sector.

"We went into Cambodia and supported their micro finance sector and put in around $ 50 million there last year. This year we ventured into Maldives again after a lull of two years due to a few bad experiences; however this time the strategy is to be very selective," he pointed out.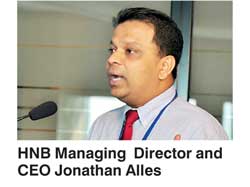 This time around HNB's top management will be banking with main players who have been in the resort business in Maldives for decades with a proven track record. He said that the bank has in fact joined forces with another leading bank with more experience on Maldivian soil.

"We will continually look for opportunities in the region,» Alles reiterated.

Elaborating, Alles stated that the bank had looked at two equity investment and was waiting to see the outcome to give the green light to proceed further.

When asked about HNB's loan book which has seen impressive growth and its exposure on the Sri Lankan tourism sector, Alles noted that Rs. 40 billion, that is 8%, has been lent during FY15.

This reflects corporate debt given for leading hotel chains in Sri Lanka as well as hotel owners who fall under the SME category.

"We see that the exposure in the leisure sector to increase by about Rs. 10 billion this year," he said.

Outlining the bank's main targets for 2016, HNB's CEO opined that he would like the bank to ideally have a healthy balance of 60% of retail bank and 40% corporate, however he stated that due to the gap caused by the decline of pawning earnings, the corporate share had grown to 48% and retail was at 52%.

Alles was upbeat on the success HNB's recent acquisition Prime Grameen now known as HNB Grameen has made and said that it would record a profit of Rs. 1.1 billion by the end of the financial year in March. According to him SMEs are a key attribute which will strengthen the bank's top line in 2016.

"We see opportunity to grow the SME business and it's growing at the right margins. This was probably a little difficult before because the margins did not commensurate with the risks that we were taking but now it's an attractive proposition to look into."

He went on to say: "As rural and regional credit and as consumer finance flourishes with more disposable income, I see us going back to our old ratios in terms of retail and corporate. We are hoping to grow at least around 25%-30% in the microfinance area this year."

HNB is also placing prominence on investing in technology and the bank is expecting to dispense over Rs. 2 billion on this initiative.

"We see the need to continuously invest in ATMs and kiosks; in addition we are bringing in a new state-of-the-art cash management system with the treasury upgrade. Ultimately this year we are giving technology utmost importance and in the process it will give us the cutting edge," Alles added.