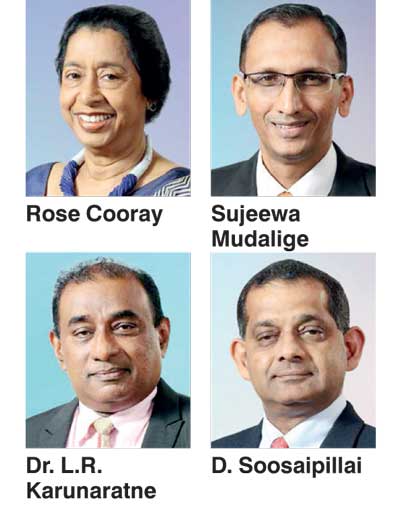 The Annual General Meeting of Hatton National Bank (HNB) turned into a near battle-ground as re-election of four directors went through a contentious vote with parties crying foul play and at least one state fund allegedly going against Government intentions.

A group of shareholders objected to the re-election of four directors and the matter was put to vote. The four directors concerned were Rose Cooray, L.R. Karunaratne, Sujeewa Mudalige and D. Soosaipillai.

The proposal was defeated by a razor thin margin of 38.2 against and 38 for. Some shareholders claimed that the EPF proxy, while present at the AGM, had gone missing at the time of the vote and the Chairman Rienzie Arseculeratne PC had exercised the vote. Some said the EPF nominee was present and voted against the resolution. Chairman Arseculeratne had exercised the proxies of several other shareholders who were absent.

The EPF is the second biggest shareholder at HNB with 9.81% of the voting capital.

Daily FT learns that the Government -or several of its top Ministers- had wanted change in the HNB's Board, hence the proposal to oppose re-election of the four, who were mostly appointed under the previous regime.


Despite this conveyed intent, the Chairman had not toed the line and EPF too had blundered, it was alleged.

Other sources said that Chairman Arseculeratne had acted correctly and gone with the majority though some of the longstanding private shareholders insist he had not conducted himself properly.

HNB has 4,619 shareholders with voting shareholding as at end 2015 of whom 4,287 are individuals.

Among state controlled shareholders are SLIC with the biggest share of 14.68% voting capital, and NSB (2.89%).

Entities controlled by business tycoon Harry Jayawardena command nearly 18% of voting capital and had moved the motion against the re-election of four directors. However the shareholding controlled by Jayawardena is limited to 10% of total voting rights. The Captains family control around 8% stake and Rusi Captain sits on the Board as well.

Other members whose re-election to the Board went uncontested were L U D Fernando, P S C Pelpola and A H D A N de Silva. Harry's daughter D.S. C. Jayawardena, Rusi Captain, Amal Cabraal and MD/CEO Jonathan Alles are the other members of the Board.

Arseculeratne was appointed Director of HNB in April 2015 and Chairman in May 2015. Rose Cooray was appointed Director in February 2010 and was the Senior Director till the 30th of October 2014. Dr. Karunaratne was appointed Director in October 2011 and S. Mudalige was appointed Director in April 2012 whilst D. Soosaipillai was appointed Director in April 2015.