DHAKA (Reuters) - Gunmen attacked a restaurant popular with foreigners in the diplomatic quarter of the Bangladeshi capital on Friday and the U.S. State department said there was a hostage situation.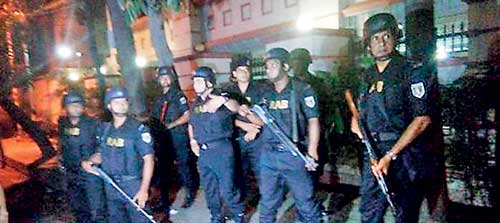 Three policemen were wounded by gunfire that erupted as police surrounded the Holey Artisan restaurant in the upscale Gulshan area of Dhaka, a police officer said.

He said there were foreigners inside the restaurant and that police were preparing a plan to enter the premises.

The U.S. State Department said on Twitter that there was a hostage situation in the diplomatic enclave of Dhaka.

Speaking from his house in the area, a witness said he could hear gunfire and that the situation "looked quite bad".

A series of deadly attacks, mostly using machetes rather than guns, have targeted bloggers, atheists and religious minorities in Bangladesh in recent months.