AFP: A brother of former President Mahinda Rajapaksa has been formally named in a corruption case involving the transfer of State weapons, as the new Government pushes ahead with its crackdown against the old regime.

A judicial commission said Thursday that Gotabaya Rajapaksa faced a hearing next week into allegations he received kickbacks while serving as Defence Secretary during his brother's decade in power.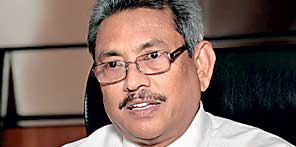 "He, along with four others, were named responsible for the transfer of weapons and other matters and a hearing will begin from next week," Secretary of the commission of four judges, Lacille de Silva, told AFP.

Gotabaya, widely regarded as the real power behind Rajapaksa during his rule, could face criminal charges at the end of the hearing. He has denied the allegations against him.

Rajapaksa lost the 8 January election to Maithripala Sirisena partly on pledges by his former ally to clean up corruption and end cronyism in the Sri Lankan Government.

De Silva said five people were named in the case after extensive investigations by the commission set up by Sirisena to probe allegations of corruption.
Under Gotabaya's leadership, the Ministry allegedly secured a deal with a private security firm, itself under investigation for money laundering and gun running, supplying it with military-issued weapons.

Gotabaya had allowed the private firm, identified as Avant-Garde Maritime Services, to operate floating armouries off the Sri Lankan coast as part of its security operations for merchant ships.

Investigators are still trying to locate thousands of weapons they say disappeared from State inventories after being transferred to third parties.

Sirisena's Government has accused the former Rajapaksa first family of stashing "billions" of dollars in foreign banks and abusing their power during his time in office.

Another brother, Basil Rajapaksa, is facing criminal prosecution over allegations he used State money for his political campaign.