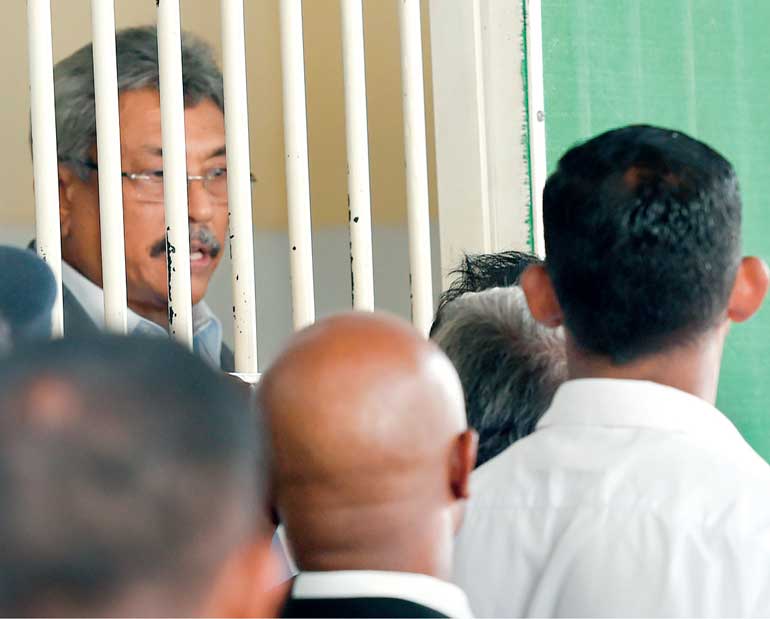 Former Defence Secretary Gotabhaya Rajapaksa (L) looks on from a court detention cell at the magistrate court yesterday. Gotabhaya and six others were granted bail following corruption charges made against them by the anti-graft commission over an alleged illegal operation over a floating armoury- AFP
Former Defence Secretary Gotabhaya Rajapaksa was held briefly in a court detention cell yesterday, when he and seven others that appeared in the Colombo Magistrate's Court in connection with the controversial Avant Garde Maritime Services case waited for a judge to grant bail.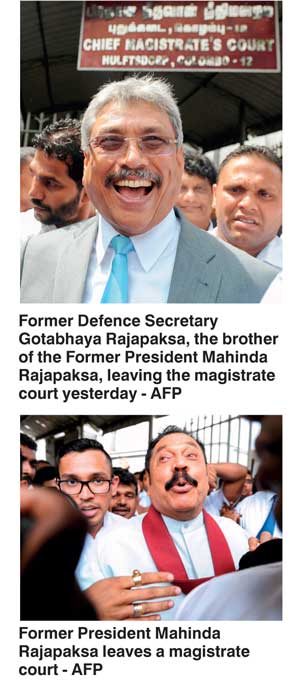 The former Defence Secretary, arguably the most powerful official in the Rajapaksa administration, was noticed to appear as a suspect in a case filed by the Bribery Commission, which claims that the decision by the accused to allow Avant Garde Maritime Services to operate a floating armoury had caused losses to the tune of Rs. 11.4 billion to the Sri Lankan Government.

Colombo Chief Magistrate Gihan Pilapitiya imposed a travel ban on the suspects and set bail in the case at Rs. 200,000 each and two sureties worth Rs 10 million each.

Former President Mahinda Rajapaksa also appeared in court in solidarity with his younger brother yesterday. All eight suspects were held in a detention cell until bail was granted by the magistrate.

Suspects in the case filed by the Bribery Commission include the former Defence Secretary and two retired navy commanders Vice Admiral Jayanath Colombage and Vice Admiral Francis Jayantha Perera. Avant Garde's controversial Chairman retired Major Nissanka Senadhipathi is also listed as a suspect in the case.

Lawyers for Gotabhaya Rajapaksa and the suspects argued in court that the manner in which the case had been filed by the Bribery Commission was illegal and appealed for the release of all eight suspects. However the Chief Magistrate rejected the submission saying any objections could be raised at the trial and slapped travel bans on all eight suspects in the case, ordering them to inform court before attempting to travel overseas.

Former Defence Secretary Rajapaksa, Avant Garde Chairman Senadhipathi and Major Waduge Fernando all requested leave from court to go overseas for medical treatment.

The Chief Magistrate ordered the plaintiff's lawyers to file written submissions stating their objections to foreign travel and said he would issue an order about the three suspects requesting foreign travel for medical purposes on 3 October. The case is to be taken up again on 1 December.

Speaking to reporters after he was granted bail, Gotabhaya Rajapaksa accused the Government of failing to take action against Northern Province Chief Minister C. V. Wigneswaran.

"In the past he didn't make such remarks. The Government accuses various people of inciting racism, but with regard to the Chief Minister, they observe a policy of silence," the former Defence Secretary said.