Former Securities and Exchange Commission (SEC) Chairman Dr. Nalaka Godahewa and Deputy Director General Dhammika Perera were remanded till 14 December by the Police on charges of financial misappropriation.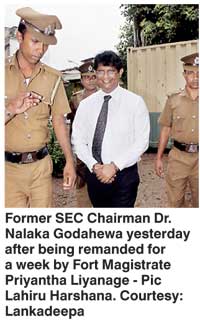 Prior to being remanded, Godahewa was arrested yesterday by the Financial Crimes Investigation Department (FCID), when he appeared to give a statement.

Perera, who is on compulsory leave from the SEC pending an internal inquiry, was arrested by FCID on Friday along with Carlton Sports Director and well respected rugby coach Ronny Ibrahim. All three were remanded yesterday.

"They were arrested for criminal breach of trust and criminal misappropriation offences committed under the public property act," Police spokesman Ruwan Gunasekera said.

Police said the three were detained after a seven-month investigation into the suspected misappropriation of Rs. 5 million at the SEC in October 2013.

The alleged fraud was over SEC releasing during the previous regime Rs. 5 million supposedly to Tharunyata Hetak promoted by the then President Mahinda Rajapaksa's son MP Namal Rajapaksa for capital market investor education.

However it was alleged that the funds were indeed used for political purposes and the cheque was given to or encashed by Carlton Sports, also promoted by the Rajapaksa family.