Dialog-led eZ Cash involving Etisalat and Hutch launch key service with global specialist HomeSend
​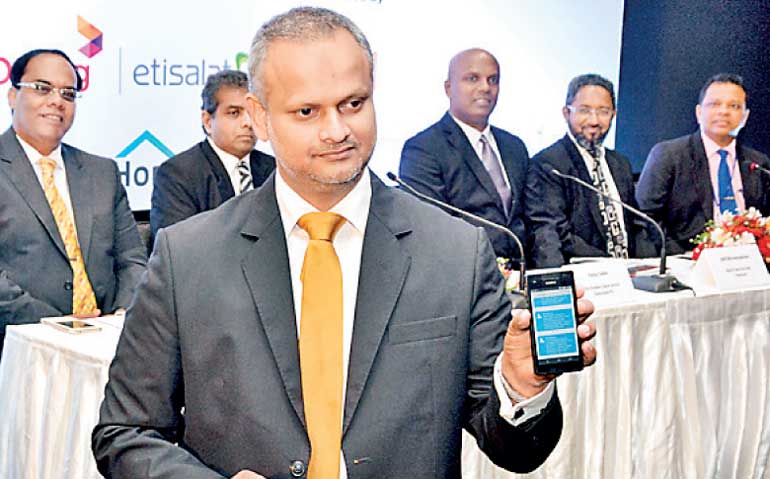 Dialog Digital Services Fariq Cader conducting the first foreign remittance transaction. Others from left: Hutchison Telecommunications Lanka CEO Thirukumar Nadarasa, Dialog Axiata CEO Dr. Hans Wijayasuriya, Homesend Head of Sales Asia Pacific Salil Bhuvanadasan, Etisalat Lanka Deputy CEO Riyaaz Rasheed and HNB MD/CEO Jonathan Alles – Pic by Upul Abayasekara
By Shehana Dain

Dialog Axiata Plc in association with Etisalat and Hutch yesterday rolled out a secure and convenient service of receiving foreign remittances direct to the mobile wallet – eZ Cash in partnership with global specialist HomeSend in a joint industry effort to enhance formal sector transactions.

Overseas remittances at $ 7 billion is the biggest foreign exchange earner but a considerable amount still comes via informal channels outside the banking sector.

The concerted effort by three mobile operators makes the service available to 14 million subscribers and further enhances the value addition by eZ Cash, the world's first inter-mobile operable mobile payment system with over 16,000 agent locations in Sri Lanka.

The tie-up with Belgium-based HomeSend, which is a joint venture by MasterCard, eServGlobal and BICS, enables cross border and cross-network transfer.
The service currently allows transactions up to Rs. 25,000 or around $ 180 and Dialog officials are having discussions with Central Bank to increase the transfer value up to Rs. 50,000. eZ Cash services also include utility payments, institutional payments and domestic money transfer facilities.

Dialog Digital Services Vice President Fariq Cader said: "We are greatly appreciative of the progressive regulation espoused by the Central Bank of Sri Lanka and the enablement support we have received from the CBSL in line with the national agenda on financial inclusion."

Commenting at the press briefing on the competition the 'eZ Cash service' will have to encounter from the banking sector, Dialog Axiata PLC Group CEO Hans Wijayasuriya said: "eZ cash does not see the banking sector as competition; we work alongside the banking sector to achieve financial inclusion to take banking services and the concept of the traditional transactional services to provide better service. We consider eZ Cash as an extension to the banking sector rather than competition."

HomeSend Head of Sales Asia Pacific Salil Bhuvandan speaking at the launch noted: "In Sri Lanka foreign remittances play a very significant role and amount to almost 10% of the GDP. It is an important aspect which affects the lives of over two million people on a monthly basis."

He added: "The HomeSend platform was the first to market an offering for international cross border remittances and builds a bridge between banks and telecom providers like Dialog Hutch and Etisalat. I think remittances will continue to boom and will be a significant part in the Sri Lankan economic landscape. We collectively have an opportunity to change people's lives and serve the financially underserved customers."

Commenting on why why consumers would prefer eZ Cash over reputed traditional banking channels that are well geared to serve the remittance sector, HNB Managing Director/CEO Jonathan Alles stated that it all boiled down to a lot of volume and small value remittances that come from the Middle East.

He added that sometimes the cost itself was prohibitive in relation to the transaction when banks originally started doing these remittances, which pushed away the potential customer.

Informal channelling to transact was first originated in the Indian market and then it eventually spread out.

Alles stated that methods such as eZ Cash, which pushes money to mobiles and ATMs, would push more remittances to the formal system which would subsequently help to track the informal remittances apart from the reported values known to the public.

He further said that in doing so it would help financial organisations to do more with such customers. "Unfortunately, because there is no track record of them, it's very difficult for banks to serve their customers in a more efficient way," he noted.