Files charges against President and PM at Bribery Commission against promise of Premiership in exchange of common residential candidacy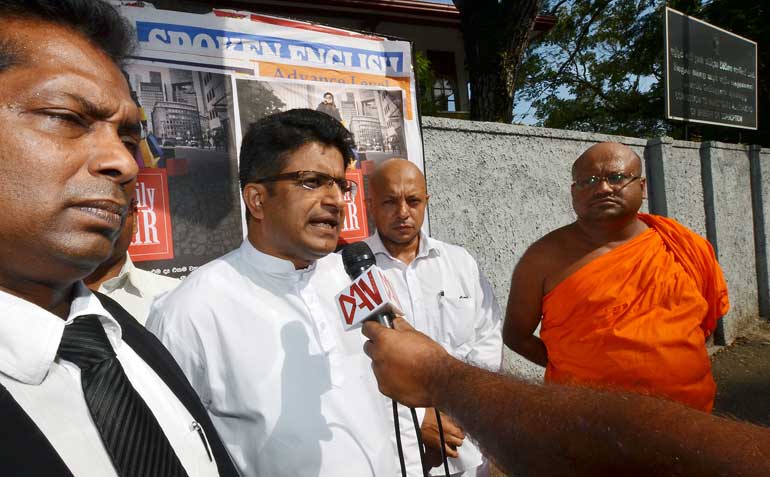 By Chamodi Gunawardana

The Pivithuru Hela Urumaya (PHU) yesterday accused President Maithripala Sirisena of bribing Prime Minister Ranil Wickremesinghe before the 2015 presidential election with the Prime Ministerial post in order to gain the support of the United National Party.


PHU General Secretary Udaya Gammanpila made this announcement to the media after lodging a complaint against President Sirisena and Prime Minister Wickremesinghe at the Bribery Commission yesterday.


Addressing media gathered outside the Bribery Commission, Gammanpila explained that President Sirisena made a promise to Wickremesinghe before the election that if he became the President he would appoint Wickremesinghe the Prime Minister.


"Wickremesinghe was the presidential candidate of the UNP. After President Sirisena's promise, the UNP withdrew Wickremesinghe's candidacy and announced that the UNP would give its full support to the common presidential candidate Sirisena during the last presidential election," Gammanpila expressed.


"President Sirisena got the UNP support because of this promise and Wickremesinghe supported President Sirisena during the election with the expectation of the premiership. Soon after the election, President Sirisena stayed true to his word and appointed Wickremesinghe the Prime Minister. However, according to the Presidential Election Act (No. 15 of 1981) if somebody makes such a promise regarding such appointments to gain victory it is a bribe," he said.


"We will lodge complaints against real offenders who have been involved in bribery and corruption. We expect to come weekly to the Bribery Commission to file complaints against wrongdoers who have been involved in fraud and crimes during the Yahapalanaya 100-day program and thereafter," Gammanpila stated.