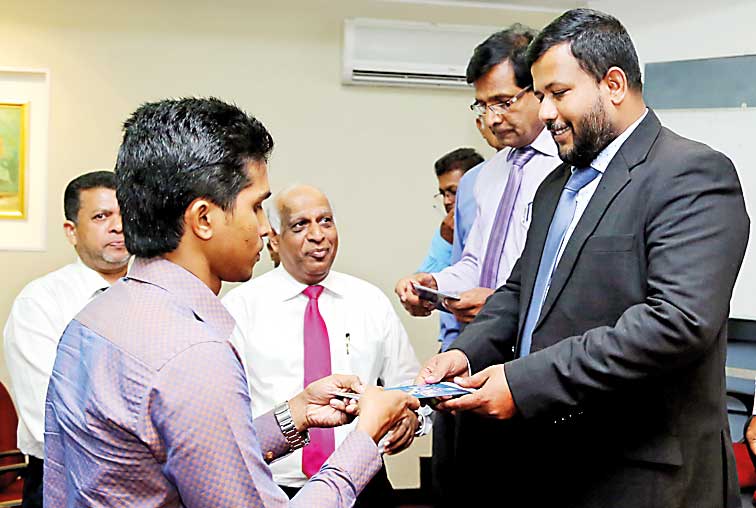 Industry and Commercer Minister Rishad Bathiudeen with a batch member
The first batch of Lankan rubber industry PhDs, scientists and research and development personnel will fly out to India on Sunday to gain more insight and experience to develop the industry, the Industry and Commerce Ministry said in a statement.

"My ministry is an implementing partner in the Government's Rubber Master Plan. These training opportunities are provided as part of this Master Plan," said Industry and Commerce Minister Rishad Bathiudeen.

Minister Bathiudeen was addressing the 25-member team, representing many companies and organisations, of Lankan rubber industry experts who will be departing on 25 September to pursue a hi-tech rubber industry training course at the Cochin University of Science and Technology in Kerala, India.

"Though we use locally made raw rubber heavily for our industries, there is also a growing problem of a lack of skilled technology knowledge in our rubber manufacturing sector. Realising the need to address this issue, my ministry, with the Sri Lanka Plastic and Rubber Research Institute contacted the Cochin University of Science and Technology in Kerala, India, which is well-known in South Asia for its plastic and rubber technology, and received a positive response to our request.
This batch of 25 rubber R&D personnel and scientists leaving for Kerala is the result of my ministry's support," he said.

"You are also the first team of Lankan scientists and Research and Development personnel departing for high-end rubber training in Cochin. We already started upgrading skills in rubber manufacturing with the latest technology and sent two batches previously for international training but they were mostly for manufacturing operations training. There has been a strong demand by our rubber industry to take part in the latest batch from the time we announced it and more than 50 applications have been received for this training."

"This is Sri Lanka's first ever advanced rubber industry team to go abroad for hi-tech training in the sector," said Ananda Caldera, Executive Director of Global Rubber Industries Ltd. and Chairman of the Rubber Advisory Committee of the Ministry of Industry and Commerce.

"Sri Lanka's rubber products are the island's premier value addition in the manufacturing sector and we are also the world's largest supplier of solid tyres. The Government is moving to make this sector a $ 3 billion industry through its Rubber Industry Master Plan and members of this team will return to Sri Lanka with the latest tech know-how."

The batch will be trained in advanced rubber concepts such as synthetic rubber blends, EPDM blending, Finite Element Analysing, nanotech applications in the rubber industry, UV projections, testing using the latest equipment such as DMA, DSC and FTIR, and rubber transfer and injection moulding techniques.

The Industry and Commerce Ministry is in charge of 12 projects from a total of 25 projects in the Government's Rubber Master Plan. In another initiative aimed at upgrading Lankan rubber manufacturing skills, the ministry is now planning to sponsor another batch of students for the Graduates Program of the Plastic and Rubber Institute of Sri Lanka at a Rs 3.7 million support fund quantum.

Locally harvested rubber is used heavily in domestic manufacturing and amounts to around $ 195 million worth of raw rubber annually.