By Madushka Balasuriya

The recently announced Colombo International Finance Centre (FC), formerly known as the Colombo Port City, will have legislation and tax laws separate from that of the rest of Sri Lanka, the Government revealed yesterday, as it ramped up efforts to attract investment and capitalise on its strategic location in the region.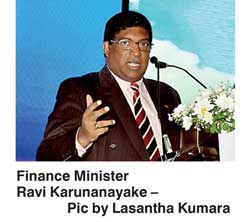 "We are home to almost one-fourth of the world's population, bordering India, Pakistan, Bangladesh, Afghanistan, etc. Yet people from those countries and even people living in Sri Lanka prefer going to Singapore and Dubai rather than Sri Lanka, which is a natural home for them," bemoaned Finance Minister Ravi Karunanayake while addressing a session focusing on the FC on the final day of the Colombo International Maritime Conference (CIMC).

"Dubai has extremely high administration costs. Singapore has a strategic position but the costs of doing business there are very high. This is why there is a natural tendency to gravitate towards Sri Lanka."

To achieve this goal it was confirmed that the FC will be a separate entity to other authorities in the country with its own governing institutions and bodies.
The centre will include a regulatory authority as well as monitoring companies to oversee financial and finance-related services; an investment authority, the Financial City Corporation, to look into the operational and managerial aspects of the FC; a special court to overlook civil, commercial disputes and employment disputes, and an appeals court.

On the point of legislation, it will be enacted to protect investors in two phases. The first will see laws set up for the administering of infrastructure, while phase two sees internationalist specialists consulted on the formulation of the legal framework, with several meetings already having taken place with firms from Hong Kong and Dubai. The financial framework, meanwhile, has been outsourced to KPMG in Dubai and Sri Lanka.

"With that we will be able to legislate the financial district that will come in under British law, under a separate jurisdiction, and ensure that you are able to come and perform your financial activities without any problem," Karunanayake added.

"Today the same thing exists with offshore banking. What we want to do is ensure that we specialise in this field," he continued, noting that "a majority of the banks working in Sri Lanka" had registered interest in working with the Government in this area. Among the key services being offered at the centre will be banking, wealth management, global processing, alternative financing and insurance.

The FC will also be a tax-free zone up to 50 years, with income tax not being charged on any income originating from the FC.

"Your fears of interference will be appeased by the two separate judicial systems, and the taxation structure will be in line with the world expectation. You cannot come to the financial centre and pay 25-30% tax. Along with the conducting of offshore activities, companies which are domiciled here will certainly be able to enjoy a much better taxation rate."

Karunanayke said the drafting of the legislation was well ahead of schedule and that he expected it to be tabled in Parliament within the next month, with the finalised details of the tax plan to be unveiled when the next budget was announced in November.

Turning his attention to the audience, a majority of them involved in shipping, Karunanayake went on to outline the implications the CIFC would have on the maritime sector. He assured industry stakeholders that that they would be protected from foreign competition but warned them that the growth they sought would only be achieved if they were able to stand on their own merit in the long term.

"The shipping industry will certainly be a protected area. Many have cast aspersions that this will be a free-for-all but that will not be the case. However, you must be ready to take competition in a good stride.

"We will certainly not expose the industry, just openly, into a situation where a foreign company will come in to seize an opportunity where you all can do better. But the sense of openness needs to be there. If the shipping industry acts on the assumption that the protection they receive will go on forever, that will be the wrong way to go about it."