Expolanka has recorded a Profit Before Tax (PBT) of Rs.661 million for the second quarter of the financial year 2015/16. The Group posted a cumulative PBT of Rs. 1,062 million for the first half of the financial year 2015/16 posting an increase of 127% over the PBT of Rs. 466 million recorded in the corresponding period of the previous financial year.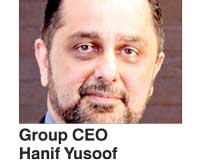 Commenting on the results, Expolanka Holdings PLC Group CEO Hanwif Yusoof said: "In this quarter we are seeing the fruits of our strategic approach to business growth, operational efficiencies and restructuring efforts."

"Our concentrated efforts in improving operational efficiencies in the Freight and Logistics sector in particular have contributed to boosting overall profit growth."

The Group's core sector Freight and Logistics recorded a revenue of Rs. 23.5 billion for the first six months of the financial year. Ocean freight in particular posted a double digit volume growth while global procurement initiatives supported margin improvements. The Group's warehousing business recorded a higher level of utilisation and contributed to the turnover growth. The quarter's positive results were mainly driven by the sustained performance of the Indian sub continent along with market growth in Indonesia, Vietnam and Hong Kong, USA and China.

The Travel and Leisure sector continued to show positive signs during the period recording a revenue of Rs. 1.9 billion. Both Inbound and Outbound operations performed well, posting a high level of growth. Inbound operations has kept up the momentum gained in the last quarter to post better results in comparison to the corresponding quarter of the previous financial year.

Expolanka's International Trading & Manufacturing sector recorded a revenue of Rs. 920 million.

In spite of being saddled with erratic margins due to exchange fluctuations and rising commodity prices, the Group's perishable business have recorded commendable results.

"In the coming months we will continue to build on the positives gained through the strategies implemented and aim to take the Group to the highest level of sustainable business growth," Yusoof commented.