Claims President should hold powers after taking risk to be common candidate
Says abolishment necessary because of Rajapaksa abuse of power
25 investigations linked to former President ongoing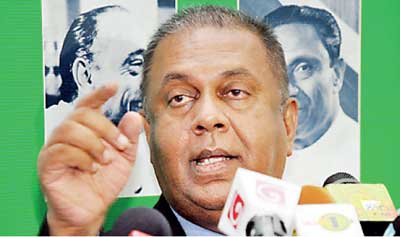 By Chamodi Gunawardana

Weighing in on recent political efforts to abolish the executive presidency, Foreign Affairs Minister Mangala Samaraweera yesterday noted the abolishment would be enacted at the end of President Maithripala Sirisena's current term of office.

Commenting on Sirisena's Cabinet papers to abolish the executive presidency that was approved by Cabinet on Wednesday, Samaraweera said the Government expected to complete the approval process within six months but it would only be implemented after the current five-year term of President Sirisena comes to a close.

"According to this Cabinet paper, executive powers of the presidency will be transferred to the Parliament and other relevant institutions," Samaraweera explained.

He added the Government should respect President Sirisena's intention of abolishing the executive presidency and allow him to use those powers during the rest of his time in office.

"President Sirisena endangered his life by being the common candidate of the then united Opposition. We must think of what kind of critical situation he could have faced if he was defeated. He will be the last Sri Lankan president to possess executive powers," he asserted.

Samaraweera charged the requirement of abolishing executive powers was necessary due to the abuse of power by ex-President Mahinda Rajapaksa.

"The Rajapaksa family robbed millions of dollars from public funds. The Police and the Bribery Commission have received 725 complaints regarding indirect involvement of the Rajapaksa family in misappropriations and other alleged crimes. Another 25 cases where the Rajapaksa family was directly involved are under investigation," he claimed.