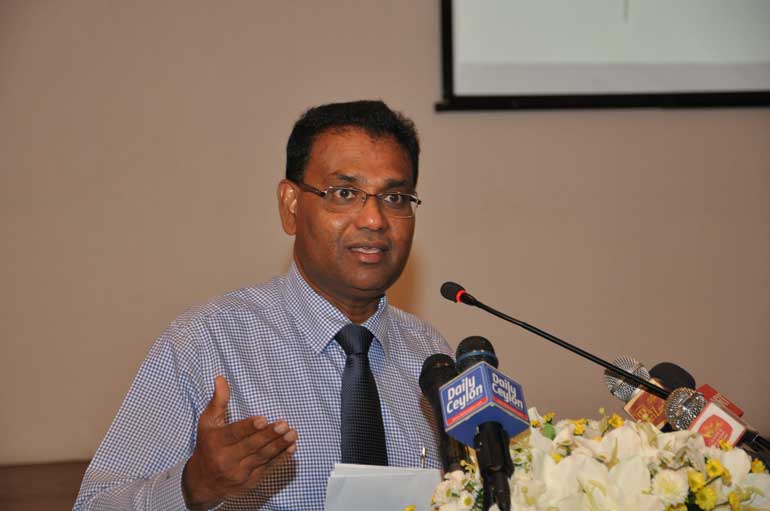 Export Development Board Chairman Bandula Egodage –

Pic by Lasantha Kumara
By Charumini de Silva

Export Development Board Chairman Bandula Egodage outlined five key areas the export sector must focus on in achieving $ 50 billion by 2050, asserting that Sri Lanka needed a strategic plan to attract Foreign Direct Investment (FDI).

According to the Chairman, the five areas of focus are sufficient value addition, proper implementation of Free Trade Agreements (FTAs), increased inflow of Foreign Direct Investment (FDI), implementation of new initiatives (entrepot trading) and high-tech products.

Admitting the target was challenging, Egodage however stressed that it was nevertheless possible. "Being on an accelerated process to achieve targets, the $ 12.5 billion target for this year is realisable," the Chairman assured.

He said Sri Lanka recorded total export revenue of $ 11 billion (merchandising) in 2014.

Egodage said that despite the change in political leadership, the country should have a clear vision to attract FDI. "We have to enhance FDI into country. We have to look at new initiatives like silk route implementation, entrepot trade and high tech products exports; which would support the growth of the economy."

Elaborating on strategic plans for the future, Egodage said that they were in the process of finalising the 2015-2020 vision.

However, the new Government is looking at an export target of $ 50 billion by 2050. Thereby, they now have to adjust all the strategies according to the new targets.

"Sri Lanka is on track to achieve a $20 billion export target, but if we are to look at a $50 billion export target, the country really must strive hard to get to that level," he added. "We really need to drive to achieve that $50 billion export target."

He pointed out that in looking at higher revenue targets, there was no point exporting raw products and it was imperative that our exporters broadened their horizons to include high tech products with value addition.

"As a country we have to improve real branding, especially labelling, advertising, intellectual property like cinnamon logo, tea logo, and geographical indication," he noted.

Commenting on Sri Lanka's successful participation at the recently-concluded 3rd China South Asia Expo 2015 held in Kunming, Egodage said that they had extended an invitation to the dynamic Chinese business community to explore emerging opportunities in Sri Lanka in the fields of trade, tourism and investment.

"I invited them to come and explore the opportunities in Sri Lanka and insisted that they understand what Sri Lanka is. The Chinese Government has introduced Silk Route improvements investing $ 40 billion, which is a collaborative effort led by China, with the support of other countries. Thereby, Sri Lanka has a major role to play in Silk Route development," he added.

Further, he said as a part of Silk Route, they stressed that Sri Lanka had the right environment for investment and emphasised that Sri Lanka could be the entrepot trade hub for the South Asian region.