Top banker Dimantha Seneviratne has been appointed the new CEO and Director of National Development Bank Plc with effect from 1 January 2017.

He will be succeeding Rajendra Theagarajah who has announced his resignation effective 30 November.

Dimantha is currently the CEO/Director at Pan Asia Bank, a position he took up three years ago. He was instrumental in turning around PABC and transforming it into a high performing mid-sized player in the industry.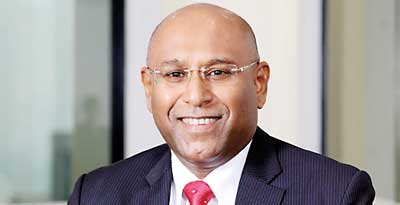 PABC said Dimantha was leaving the bank from 31 December 2016 to pursue wider career prospects. Prior to joining PABC, Dimantha spent 15 years with the HSBC Group where he held key senior management positions including several senior overseas postings covering Thailand, Bangladesh and Saudi Arabia.

His last posting with HSBC Group was as the Chief Risk Officer, Thailand from 2011-2013.
Prior to that he was the Chief Risk Officer Sri Lanka and Maldives from 2008-2011. He was also the Chief Risk Officer of HSBC Bangladesh in 2010. At HSBC he was responsible for credit growth, strategy and governance in those respective geographies as a member of the country leadership team. He has gained extensive exposure in corporate banking, retail banking and wealth management, credit risk management, operations and market risk, internal control, investment banking and finance.

Dimantha began his banking career with Sampath Bank and had served in Overseas Trust Bank, Colombo Branch and Saudi British Bank prior to joining HSBC.

He holds a MBA from the Postgraduate Institute of Management, University of Sri Jayawardenepura and BSc from the same university. He is a Fellow Member (FIB) of the Institute of Bankers, Sri Lanka and a Post Graduate Diploma Holder in computer system design from the NIBM. He successfully completed the High Potential Leadership Program at the Harvard Business School, Boston, USA in 2016.

A past President of the Association of Professional Bankers (APB) Sri Lanka, Dimantha has held various positions in the Executive Council of APB for over a decade including the posts of Secretary General (2008-2009) and Senior Vice President (2009-2010). He currently functions as a Director of Lanka Clear Ltd. and Credit Information Bureau - Sri Lanka.