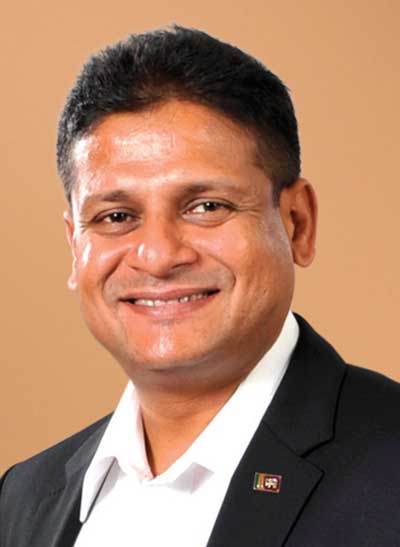 Dilith Jayaweera
Marking probably the most important milestone in the history of the company, Derana recently celebrated its 10th anniversary with on air and off air excitement and pageantry. This celebration was symbolic of the channel's rapid growth towards the top since its inception in 2005.

Every index researched and tabulated by media research agencies illustrate the brand's growth potential and standing at present.

Ranked number one in weekend prime time and weekday non-prime time, Derana is at the cusp of attaining an overall leadership status in the not too distant future.

Fast-tracking Derana's progress into the future, the Board of Directors recently made a decision to appoint one of the founder investors, Dilith Jayaweera, as Chairman and Managing Director of TV Derana, FM Derana and Derana Macromedia with immediate effect.
Laksiri Wickramage will function in the capacity of Deputy Chairman and CEO while Madhawa Madawala will continue to serve as Executive Director and COO. The Board of Directors will include all of the above members, as well as Varuni Amunugama Fernando.

Taking pride in telecasting innovative programming content, Derana has continued to create new waves in the industry. Built upon a platform of "proudly presenting new ideas while preserving the true essence of Sri Lankanness," Derana has evolved to be the most preferred channel amongst youth audiences.

With a strong reach across the country, Derana programs are segmented to cater to the viewing pleasure of the various genres of viewers. With engagement being the keyword, the industry's most experienced professionals who deliver the right combination of entertainment and knowledge craft Derana's program line up.

One of Derana's cutting edge innovations takes the form of Derana24x7, the channel's dedicated 24-hour news stream, available seven days of the week. Telecasted on cable television via Dialog TV, this concept has created a new dimension in news and current affairs.

Given that entertainment is the lifeblood of a media channel, Derana news is seen as the medium by which the channel can impart current information on a newsworthy matter, from the perspective of a 'reasonable man.' Assuring unbiased news telecast, giving a balanced view of all aspects has made Derana undoubtedly the preferred news provider for Sri Lankan audiences.

Derana boasts of an unmatched digital presence with its world-class innovations like adaderana.lk, etunes.lk etc. One of Derana's most powerful and real-time media touch points is its pioneering Ada Derana Mobile News Alerts service, which instantly reaches the largest subscriber base in the country, amounting to over one million people. Derana is proud to be the country's largest integrated communications network.

In the near future, having already initiated fruitful discussions with chosen leading global media brands, Derana will consider cutting-edge tie-ups with strongly networked international media brands. This timely and strategic move will deliver an outstanding media exposure to Sri Lankan audiences, residing locally or overseas.

Looking back at Derana's decade of evolution, a focused and dynamic leadership is evident. Spearheaded by Dilith Jayaweera, the visionary of the channel, a truly distinctive offering has been delivered by the top management and team of Derana thus far.

The uniqueness of this channel is its staff members who have formed a close bond founded upon the concept of a traditional Sri Lankan family – this has made Team Derana a power to reckon with. It is this humanity that has spurred the way for the channel to initiate a number of social responsibility initiatives, including 'Manusath Derana' and 'Derana Daruwo.' These initiatives optimise the use of media to transform the lives of the adversely affected, offering hope to Sri Lankan people.

Having co-founded Sri Lanka's advertising company Triad Ltd. in 1993, Dilith Jayaweera entered into the foray of mass communication. Today, 22 years later, the conglomerate, including Citrus Leisure PLC and George Steuart & Co. Ltd., spearheaded by him and managed by a team of versatile professionals, has evolved into a valued Sri Lankan corporate with business verticals encompassing communication and media, travel and leisure, exports, pharmaceuticals, beauty care and real estate, employing close to 3,500 people.