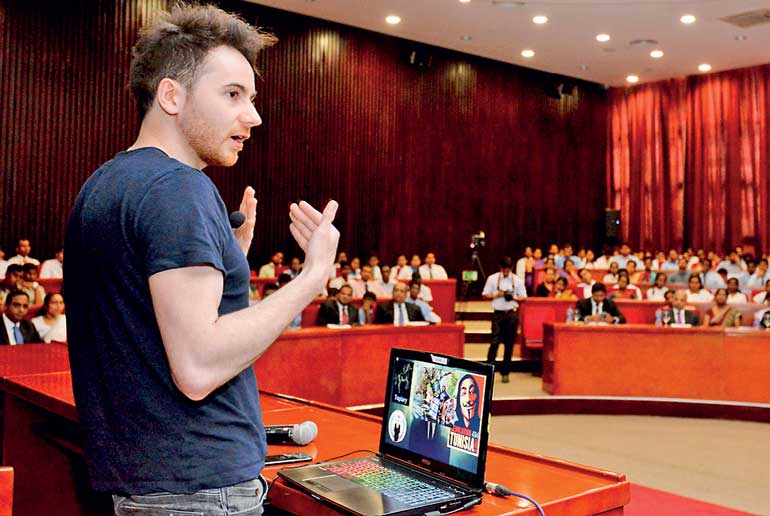 Cyber security expert Jake Davis describing different types of hackers – Pic by Daminda Harsha Perera
By Asnah Anwer

Telecommunication and Digital Infrastructure Minister Harin Fernando yesterday emphasised the importance of cyber security while noting a number of Government initiatives to leapfrog and digitise education in Sri Lanka.

Speaking at the first-ever National Youth Summit on Cyber Security, the Minister stated that "the real war in the world is not going to be a war with weapons anymore, the war is going to be in cyberspace" while also noting the positive aspects of cyberspace, "the scope, the opportunities, everything lies there."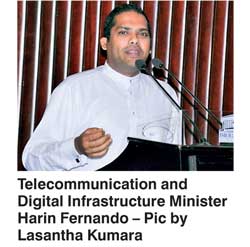 The Minister defended Government plans to provide all school students with a tablet in school from next year onwards, and stressed the importance of this project. "A lot of people discount this initiative and say we do not have a vision; there are a lot of issues inside the schools, there is a lot of room for development in schools and we are trying to give a tablet.

But what we see is inside the internet, inside that space, there are immense opportunities. That is the next generation, that's the next world."

The Minister stated that these tablets will be provided from Grade Six onwards for students to use and keep in schools, while there will be provisions for the senior Advanced Level students to take the tablets home as well. The Minister noted that this is a huge concept moving forward, saying "we are going to leapfrog how we think about digitisation and how education is going to move forward", while also acknowledging the challenges, in that many of the approximately 30,000 teachers in Sri Lanka will not be very comfortable with the transformation. However, the Minister noted: "We have to start from somewhere. Sri Lanka is a small country, but we are thinking big."

Addressing a gathering of approximately 365 students, the Minister revealed plans to open a cyber security centre in Sri Lanka at the summit. "About cyber security there is a different constitutional side we can get into. I and our MD and CEO of ICTA are already negotiating with Microsoft to have a cyber security centre in Sri Lanka. So there are a lot of opportunities that are going to be created for you all in the future. So I think Sri Lanka is going to be in safe hands."

Meanwhile, he also noted the dangers of technology. "As much as technology develops there is a threat to society as well. So as much as this is good we also need to protect ourselves."

Cyber security expert Jake Davis delivered the keynote address at the summit. He spoke of his own personal journey from being part of a hacking group 'LulzSec' under the alias of Topiary as a teenager, his subsequent arrest in 2011 at the age of 18 to his present work to raise awareness and knowledge on cyber security.

"There are a lot of different hackers in the world," Davis stated, distinguishing between four different kinds of hackers. These include the serious or criminal hacker, the politically motivated hacker, the people who fix things and the bored hacker, who Davis stated can be the most dangerous of all.

Davis was critical of most State responses which do not differentiate between the different types of hackers, treating all of the same. He pointed to avenues where a hacker can be an important component in maintaining cyber security, such as programs where hackers can ethically earn money by improving a company website's security through hacking. He also pointed to the need for governments to recognise and treat hackers with mutual respect rather than imposing barriers. "It's all about mutual respect, that mutually agreeable space for everyone to respect."

Davis noted that things are improving today with online programs that co-opt hackers to improve cyber security, and with companies and governments beginning to communicate with hackers who are being increasingly recognised as a force for good. However, Davis stated that there is still room for improvement. In particular he stated the war on encryption must end and everything should not be conflated as a cyber attack as this spreads fear.