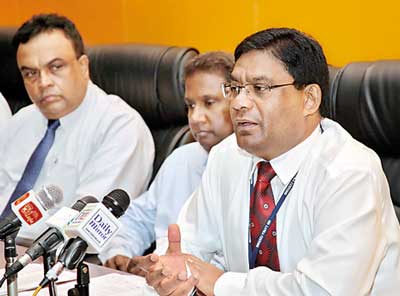 Customs yesterday refuted allegations of handing over a container containing illegally imported vehicles to the owner insisting the offender had been fined Rs.65 million and remanded according to the law. Releasing a statement via the Finance Ministry Customs Director General Chulananda Perera emphasised that he was not under any political pressure in connection to the investigation. He also added that the suspicious container had been taken to the yard of the importer as the Customs Department was told its goods could be damaged. However, it was opened in the presence of Customs officials and when the illegally imported vehicles were uncovered the owner of the container had been charged in accordance with the law.

"The controversial container with regard to this incident was inspected in the RTF Division of the Customs' Department. This Division is directly supervised by the Customs Director General. I have instructed to carry out random inspections. This container was also inspected under such instructions. When my officers seized this particular container for inspection, an officer attached to the company which imported this TEU met me. He said that certain vital machinery in the container could get damaged when they are unloaded in the RTF. Therefore he sought my permission to transport the particular container to his company's private container yard in Thihagoda Matara."

" He claimed that there are modern facilities in his company container yard than that of the RFT to unload the machinery safely. He also welcomed any inspection group from the Customs to check the unloading at his company's private container yard. As government servants and, as a department, the customers' requests should be considered if they have not committed any offence in the past. Accordingly, we discussed the matter with the director general in charge of that division and decided to check the goods in this particular company's private container yard in Thihagoda," Perera said.

The container was opened in front of two Deputy Customs Superintendents, one Assistant Customs Superintendent, the importer of the container and the Wharf clerk on 14 May. Having opened the container officials discovered three vehicles in the container and realised that the importer had committed a crime. Therefore Customs decided to impose the maximum penalty, which included arresting him and imposing a fine of Rs. 65.2 million."

A Montero Jeep, a Mini Cooper and a Toyota car were inside the container. The vehicles were confiscated by the Customs upon the opening of the container.

"The Customs Department currently has facilities to inspect only 5% of containers. We have two very old inspection machines. However we have already called tenders to install new machines under the project to increase modern scanning machines. We are optimistic that we will be able to obtain the service of such machines before the end of this year," the Customs Director General said.