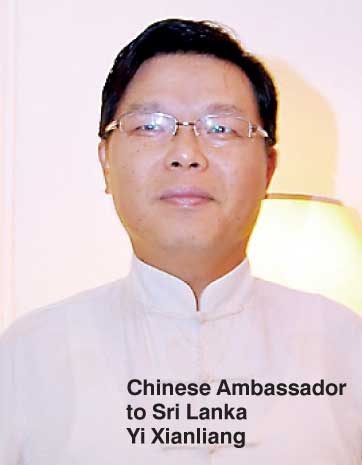 China will always stand together with Sri Lanka to strive for a more brilliant future for bilateral relations as well as the well-being of the people of the two nations, Chinese Ambassador to Sri Lanka Yi Xianliang has said.

The Ambassador has said that China and Sri Lanka are neighbours who enjoy centuries of friendship based on mutual benefits and win-win results without political preconditions.

He was addressing an event hosted in capital Colombo on Tuesday to mark the 66th anniversary of the founding of the People's Republic of China, Xinhua reported.

Ambassador Yi said that the cooperation in various fields between China and Sri Lanka has flourished in the past decades, contributing to the sustainable development of Sri Lanka and bringing tangible benefits to the people from both countries.

"China is Sri Lanka's friend in need and up to now, China has provided preferential loans amounting to more than Rs. 800 billion and donations worth over Rs. 200 billion to Sri Lanka," he said.
"The two countries' enterprises have worked together and constructed a number of mega projects, which have created more than 100,000 job opportunities for the local people and trained tens of thousands of technicians and managers," the Ambassador added.

Sri Lanka has also become a hot tourist destination for Chinese travellers. From January to August this year over 140,000 Chinese visited Sri Lanka, which is up 76.8% year on year, turning China into the second largest tourism source market of Sri Lanka, Yi said.

While congratulating the new National Government led by President Maithripala Sirisena, Yi said that a stable government and an effective Parliament would enhance foreign investors' confidence.

"The potential for the cooperation between the two sides is huge. Assuming 1% of Chinese FDI and overseas tourists could come to Sri Lanka, which means there will be 1.2 billion FDI and 1 million Chinese tourists flowing into Sri Lanka every year," he said.

Minister of Ports and Shipping Arjuna Ranatunga speaking at the event said that Sri Lanka was willing to make joint efforts with China to further promote the pragmatic cooperation between the two countries and elevate the bilateral relations to new heights.

He said that the Sri Lankan Government deeply appreciated the Chinese Government for the assistance to establish a hospital and a special research institute for the research and treatment of chronic kidney disease in Sri Lanka which is an acute health problem affecting many segments of the population in the country.