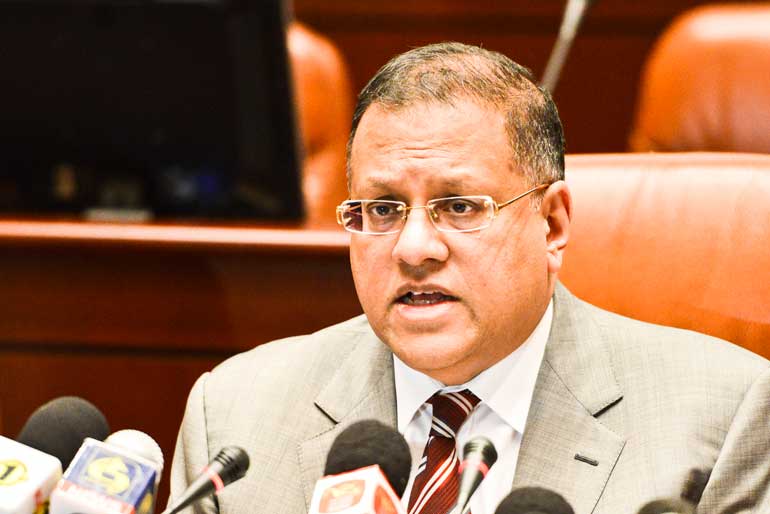 By Channa Fernandopulle

Casting further doubt on the credibility of the Parliamentary Committee on Public Enterprise (COPE) report on the Treasury Bond controversy, Central Bank Governor Arjuna Mahendran questioned whether the committee had sufficient time to arrive at a fully formed conclusion.

"I cannot of course speak for COPE but all I do know is that I was interviewed twice by that committee and just a few days after I had given my second set of observations, Parliament was dissolved.

"I would find it hard to imagine that the committee could come to a well thought out conclusion on its deliberations in such a short period of time," Mahendran stated.

In support of his point, Mahendran cited the fact that COPE Chairman D.E.W. Gunasekara himself had requested more time in order to submit the committee's final report to Parliament.
Mahendran's implication that COPE itself had acknowledged that it needed more time to study the controversy contradicts statements made to the media by Gunasekara, who had stated that the report had reached the approvals stage and the delay in submitting its findings to Parliament was caused by delays in securing the required approvals to proceed.

In addition to Gunasekara, the COPE subcommittee appointed to probe the Treasury Bond issue was comprised of Deputy Minister of Highways and Investment Promotion Eran Wickramaratna, State Minister of Child Development Rosy Senanayake, Deputy Minister of Justice Sujeewa Senasinghe, Prof. Rajiva Wijesinha, UPFA MP Weerakumara Dissanyake, Illankai Tamil Arasu Kadchi (ITAK) MP E. Saravanapavan, UPFA MP Susil Premajayantha, Minister of Health and Indigenous Medicine Rajitha Senaratne, UPFA MP Lasantha Alagiyawanna, Democratic National Alliance MP Sunil Handunetti, Minister of Ports, Shipping and Aviation Arjuna Ranatunga and UPFA MP Hassan Ali.

While the findings of COPE expired with the dissolution of Parliament, the report has nevertheless become a hot topic of debate in the political sphere with Opposition MPs labeling the dissolution as a cover-up of the COPE findings while the ruling UNP Government had played down its findings alleging that Gunasekara and other interested parties were seeking to gain political mileage using unsubstantiated and unfair information.

When questioned about whether he had maintained any interest in Perpetual Treasuries or Perpetual Capital – companies at the centre of the Treasury Bond controversy – Mahendran issued an unequivocal denial: "I have nothing to do with that company. All I do know is that the sister of the former Governor was a Director there as was my son-in-law and that's it as far as I'm concerned. I have absolutely nothing to do with that company."

He went on to assert that no established procedures had been violated by him during deliberations by the Public Debt Department of the Central Bank, the institution that oversaw the T-Bond issue.

Meanwhile, Mahendran derided allegations made by former Parliamentarian Bandula Gunawardena that he had secretly left the island as "nonsense", before presenting a letter from the Presidential Secretariat dated 22 June 2015 authorising him to travel overseas.

"I left the country to accompany the Minister of Finance to Japan to meet the Japanese Minister of Finance and the Japanese Secretary of the Cabinet and several other senior officials. This meeting was planned several weeks before the Parliament was dissolved.

"I have a letter here from the Presidential Secretariat which has given me permission to travel dated 22 June 2015 and this was tabled to the senior management of the bank and the Monetary Board was also made aware of this trip so it's a complete falsehood that I left the country without informing anyone," Mahendran clarified.

Responding to persistent questioning on the Treasury bond issue, Mahendran argued that evaluations of economic policy in hindsight could be misleading and claimed that the reason interest rates for the issue had differed so drastically from previous T-Bond issues was due to the new public auction methodology adopted by the Central Bank as opposed to its early policy of seeking out private placements.

"Firstly it's very easy to take up a position in hindsight. If you look at the Greek bonds case, the Chief Justice made a very interesting point that in economic policy decision-making, you cannot question the decision that was made after it has been made because then it's very easy to jump to conclusions as to what might have happened if that decision had been made differently

"Secondly, those interest rates that people thought could have applied to this issue of bonds were in my view very artificial, these were rates of interest set by private placements to captive sources such as the EPF and the NSB and they were done at very low levels. But when you go to the market you have to establish market rates and that was what we saw," he argued.