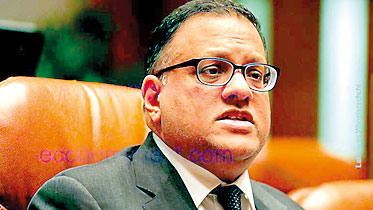 By Uditha Jayasinghe

Greater investment from China could push Sri Lanka's current growth projects of 6% in 2016 to "7% or more" believes, Central Bank chief Arjuna Mahendran, signaling relations between the two countries will return to their previous glowing status.

Development Strategies and International Trade Minister Malik Samarawickrama will leave for Beijing on 29 February for a preliminary visit ahead of a tour by Prime Minister Ranil Wickremesinghe on 6 April. Wickremesinghe has already indicated China has shown strong interest in setting up a 1000 acre investment zone in Hambantota and the suspended Port City project is expected to resume within the next few weeks.

Mahendran himself undertook a visit to China earlier this month and met with officials of top banks including representatives from the People's Bank of China, which has already loaned funds to Sri Lanka. He led a delegation including top members of Sri Lankan banks for talks during the tour.

"I think 6% growth is doable but a lot depends on foreign investment. If we can get investment from China we could hit 7% or more…. We will have a better picture by April," he told reporters adding a resilient China would be "good news to a lot of countries including Sri Lanka."

During Mahendran's visit Sri Lanka was encouraged to borrow, source loans and initiate currency swaps in the Chinese Renminbi market. Talks with the five largest Chinese banks and their Sri Lankan counterparts could also pave the way for Sri Lanka's banking industry to leverage off the bigger banks and ease flow of financing to Sri Lanka, he stated.

"We want to tap Japan and Korea next," he said.

Denying the Sirisena- Wickremesinghe Government had changed its stance on China Mahendran opined that differences created by the controversial Port City project was based on technical aspects overlooked by the previous regime, which have now been rectified. He noted resumption of the $1.4 billion project would come with measures to minimise environmental damage and the concerns of the Government were legitimate.
The Governor also claimed he was "excited" by the interest of Chinese companies to investment in Sri Lanka, particularly in infrastructure but insisted such inflows should have minimum Government involvement.

An investment zone in Hambantota, the Megapolis project and the Port City presents a crucial opportunity for Sri Lanka to boost growth in a short period of time, he emphasised.