"Corporates point to political uncertainty impacting business interests, while by and large maintaining their positions on the economy, investment conditions and future prospects," the latest edition of business magazine LMD reports.

The LMD-Nielsen Business Confidence Index (BCI) "remains unchanged (at 154 points) from April, although it is above both its 12-month average (148) and the count of a year ago (142). In the last three months, however, the biz barometer has virtually stood still, as businesspeople 'wait to see' where the country is heading."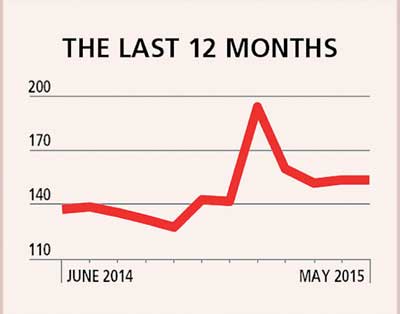 The magazine quotes Shaheen Cader, Nielsen's Managing Director, saying that "while most respondents expect their businesses to do better in the near future, and have also experienced strong [business] growth, some express concerns about future growth."

A spokesman for LMD remarks: "The sentiment in business circles is primarily attributable to political uncertainty and concerns over the outcome of impending general elections."

As for the economy, 47% of survey participants say it is likely to continue on its current path in the next 12 months, whilst 39% feel that economic conditions will improve. Only 14% believe that the economy 'will get worse' during this time, the monthly poll results show.

LMD notes: "The deadlock in business sentiment is unlikely to broken without major changes on the political front, and it is no surprise that all eyes are on the upcoming general elections. A change in the prevailing ground realities is bound to have ramifications for business and business confidence…"

Media Services, LMD's publisher, says that the magazine has been released to bookstores and supermarkets (for the full BCI report, go to www.LMD.lk).