Business magazine LMD reports that the "business community is highly optimistic about the future," according to the latest LMD-Nielsen BCI, which broke the psychologically critical landmark of 200 basis points in September.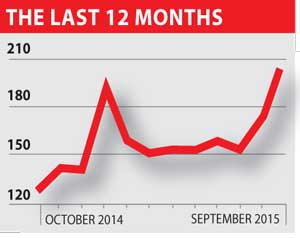 The last time the index came close to surpassing this milestone was following the January presidential election, which saw it skyrocket to 194. LMD says that the unique barometer of business confidence in Sri Lanka now stands at 204 points.

The magazine quotes Nielsen's Managing Director Shaheen Cader, as saying that "at a macro level…, businesses are optimistic about the country's economy." Cader, however, sounds a note of caution: "On a micro level, both short and medium-term business prospects have remained more or less static, which may be due to the time lag in any policy implementation measures by the new Government."

According to LMD, "almost three-quarters of those consulted state that the economy will improve in the coming 12 months, while 20% expect conditions to stay the same and just seven percent say that things 'will get worse' during this period."
And a spokesperson for the magazine notes: "More than half those who responded to Nielsen's monthly survey say that the investment climate is healthy, while a further 42% views conditions to be fair."

"Developments on the political front – particularly the formation of a coalition government – appears to be the main driver of corporate sentiment in present-day Sri Lanka," says LMD, adding: "The future direction of business sentiment will largely depend on whether the newly installed National Government makes good on its promises – particularly, those that impact economic prosperity."

Media Services, LMD's publisher, says that the magazine will be released to bookstores and supermarkets on Friday 9 October (for the full BCI report, go to www.LMD.lk).