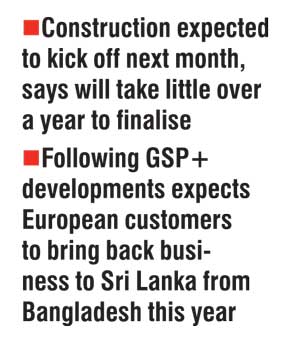 Apparel and fabric giant Brandix will commence construction of its newest factory in Batticaloa next month, pumping in $ 10 million and giving a further boost to the north-east region.

The new factory comes as a welcome addition to the lagging region where Brandix already operates a plant in Punani, Batticaloa, for the past five years. The earlier investment stands at $ 1.6 million (Rs. 230 million)

Brandix CFO Hasitha Premaratne told the Daily FT that with the success the previous manufacturing plant had received in the region, the company took the decision to expand its operations further in Batticaloa. "Many of the leading apparel companies are in this region; like Hirdaramani which has a factory in Mullaitivu, Megaline that's in Vavuniya and MAS which is in Kilinochchi while we have a plant located in Batticaloa.



When we started there wasn't much certainty in this part of the country, therefore our investment wasn't a large amount but with more stability which followed we thought of expanding further with a much bigger investment. Construction will take a little over 12 months and we will start next month," he said.

Furthermore the new factory is expected to be in close proximity to the previous factory and anticipates to employ around 3,000 personnel when it will be fully running, compared to the 500 employees and 250 machine operators who are currently employed in the factory at Punani.

Additionally Premaratne also emphasised that the apparel industry sees 2016 as a promising year of growth.

"A lot of buyers who moved out because of the duty advantage to Bangladesh in particular because they have the GSP+ benefit are actually looking at coming back partially. As you know Bangladesh is cheap but they have their own set of problems in terms of compliance and other related stuff."

While the CFO couldn't reveal an exact amount for revenue Brandix hoped to generate from the positive GSP+ outcome, he however said that the re-shift of European customers was welcomed by the industry, be it in a small number or large.

"What we have seen in the last few months after this GSP+ is that buyers are looking at Sri Lanka positively. Maybe they won't bring back all the business they took away from Sri Lanka but at least they will bring something back. This will give positive momentum for apparel manufacturers in Sri Lanka," he added.