WCC says project will be the tallest in Asia and 9th tallest in the world
To have 2,000 hotels rooms, 1,200 residential units and 20 swimming pools
Expected to be completed by 2022, wants to encourage financial companies to be based in SL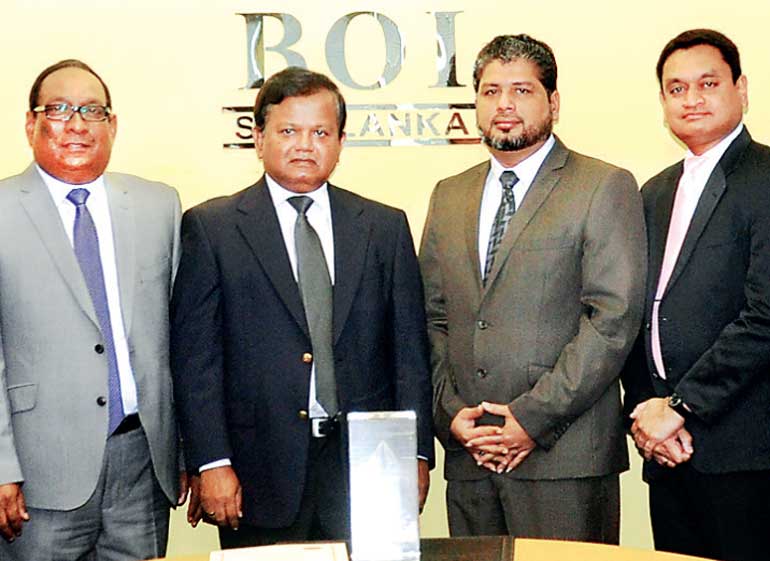 BOI Chairman Upul Jayasuriya with WCC Chairman Ahmed Moulana and company officials
The World Capital Centre (WCC) has signed a $ 2 billion agreement with the Board of Investment (BOI) to build what has been publicised as the tallest building in Asia and the ninth tallest in the world, the company said in a statement.

"The World Capital Centre (WCC) will be the centre of multiple trading and service providing establishments," the WCC said in a media statement.


The building is to have twin towers with modern amenities of 117 floors, at a height of 625 metres. With an estimated total project cost of $ 2 billion, it is to be built in the heart of Colombo's Commercial area.


"It will include 1,200 residential units, 2,000 hotel rooms, 3,000 retail outlets, 5,000 car parking spaces, the WCC seven-star hotel, 20 luxurious swimming pools, gold presidential suites with gold-plated interiors, the world's fastest double-decker elevators, the first Michelin Star restaurant in Sri Lanka, a stunning observation deck and a helipad on the topmost floor," the statement added.

However, the statement did not include the location of the building.


BOI Chairman Upul Jayasuriya and other senior officials of the BOI were present at the signing ceremony while WCC was represented by its top officials WCC Chairman Ahmed Moulana, WCC Deputy Chairman Vivekanandarajah A. Moorthy, WCC Director Dr. Senaka Silva, WCC Director Dr. Arosha Fernando, WCC Director R. Sadesh Kumar, WCC Director Wijendran Balakrishnan, WCC MD Imran Saleem, WCC Media CEO Shafraz Jalaldeen, and WCC Secretary Waruni V. Ranasinghe.

"This proposed building will be the tallest in Asia and the ninth in the world as accepted by the Skyscraper Centre of USA, and will be largest tower in the world having a total built-up area of 800,000 square meters, the first of its kind in Sri Lanka, which would be an ultimate tribute to Sri Lanka as well as in the Asian economy, expected to be completed by end of 2022," the statement added.

Sri Lanka being centrally located in South Asia is perfectly poised to be the launch pad for the Capital Centre owing to all the bilateral trade agreements, close ties with the developing nations and the long trade history with the rest of the world, the statement went onto say.


While many international banks have been operating in Sri Lanka for decades, the end of the war has seen the expat community blooming together with large multinational companies looking to invest in new businesses or to open up branches.

Within the region Sri Lanka is very easy to do business with and eventually has the potential to become what Dubai is to the Middle East, what London is to Europe, what Singapore is to South-East Asia or what New York is to the Americas.

"WCC intends to be the first financial centre to offer an innovative vehicle for investment companies to have their South Asian base here in Sri Lanka, giving an extraordinary boost to the economic development of the country."