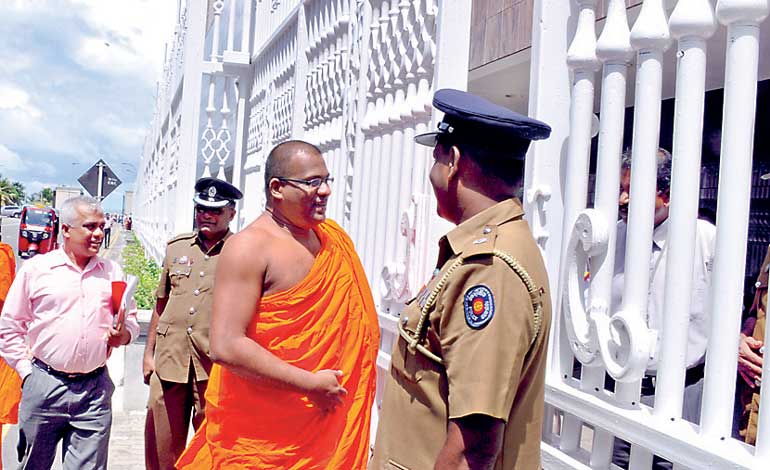 BBS General Secretary Ven. Galagodaatte Gnanasara Thera enters the Central Bank - Pic by Lasantha Kumara
The Bodu Bala Sena (BBS) yesterday met Central Bank Governor Arjuna Mahendran to discuss the recent decision by private banks to offer financial services governed by Islamic principles.

"Islamic banking is a concept of Sharia Law, which prohibits the charging and receiving of interest rates. Islamic banking is one of the fastest growing sectors in the global banking industry and has been adopted by several countries where the majority is not Muslim," BBS General Secretary Ven. Galagodaatte Gnanasara Thera said at a media briefing after the meeting.

He said that Sharia Law had made its way into the education and legal system.

BBS Chief Executive Officer Dilantha Vithanage, addressing the media outside the Central Bank, said that there was no legal basis to establish such a banking system in the country.

"These banking systems have been introduced through weak points after the Banking Act - 2005 was amended. According to information, it had been clearly mentioned that the Islamic banking system was a part of Sharia Law. Sharia Law is not a law in Sri Lanka and this is totally against the Banking Law in Sri Lanka," he said.