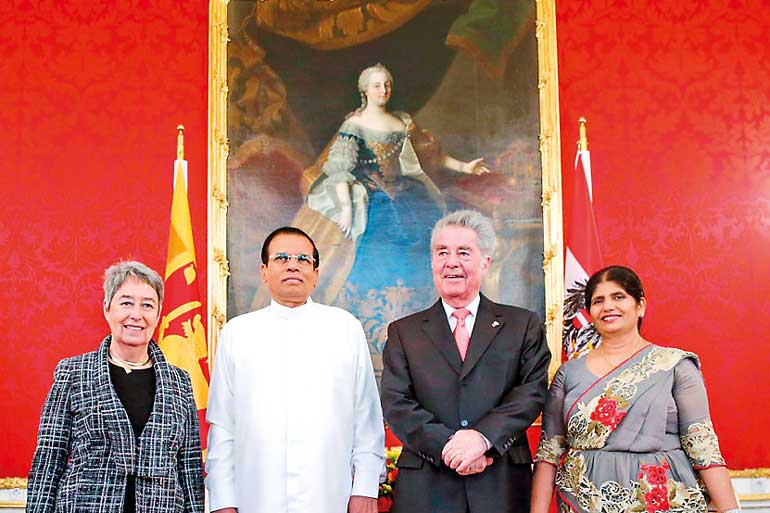 Vienna: Austria has pledged to assist Sri Lanka to get the European Union's ban on fisheries exports lifted as well as to regain the GSP+ tariff concession when the Sri Lankan President Maithripala Sirisena met his Austrian counterpart President Heinz Fischer Friday in Vienna.

President Sirisena who arrived in Vienna on a 2-day state visit to Austria was welcomed by President Fischer according a Guard of Honor.

During the bilateral discussions held at President Fischer's office after the welcoming ceremony, the leaders of Austria and Sri Lanka agreed to increase the cooperation in the economic development between the two countries. The discussion was focused on expanding of the friendly relations of the two countries.

"The new government of Sri Lanka is now carrying out the program to build the coexistence and reconciliation in the country by fulfilling the responsibilities of a post-war period, after ending the 26 years long terrorism in Sri Lanka," said President Sirisena. He added that Sri Lanka is expecting the assistance of every friendly country to re-build the economy which had fallen due to terrorist activities.

The aim of the new government is to uplift the living standards of the people while developing the economy, the President said, adding that the government has already initiated programs to develop infrastructure facilities in the country to promote the manufacturing sector to find solutions for the problem of unemployment among the youth.

The Austrian President pledged to provide every possible assistance to Sri Lanka to get the EU ban on fisheries exports lifted as well as to get the GSP plus facility.

President Sirisena requested the Austrian President to provide their assistance in promoting Sri Lanka's tourism industry and the Austrian President expressed his consent regarding this.

The Austrian President commended the Government's commitment in protecting Theravada Buddhism and said that Sri Lanka can be named as a country, which strongly practices Theravada Buddhism.

Following the bilateral discussions, both leaders held a joint press conference.

Addressing the joint press conference, leaders of the both countries stated that their hope is to further enhance the existing bilateral ties between the two countries.

President Maithripala Sirisena thanked for the warm hospitality accorded to him by the government of Austria.