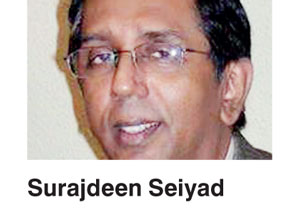 In a move that reinforces the confidence placed by global conglomerates in Sri Lanka, Associated British Foods has announced plans to invest $ 3 million in its fully-owned subsidiary AB Mauri Lanka Ltd.

The investment comes at a time when the market is expected to grow, instilling confidence in the Sri Lankan subsidiary, said Surajdeen Seiyad, Director/Country General Manager, AB Mauri Lanka.

"Improving living standards while recognising broader market opportunities augur well for the county while Sri Lankan customers can look forward to greater benefits from our range of products", he adds.

Associated British Foods, the parent company of AB Mauri Lanka is a world leader in both yeast and bakery ingredient production. With a strong market presence for over 30 years, AB Mauri Lanka has consistently contributed towards the up skilling of baking professionals while empowering the sector with outstanding know-how.

Surajdeen says that the respective country specific businesses are clearly focused on local markets with scope for identifying opportunities and investing in such opportunities.

"Backed by global expertise in bakery products, technologies and know-how, our innovative combination of local knowledge and global expertise gives our customers the awareness to meet local needs with world class bakery solutions developed by industry experts with exact needs in mind," he reiterated.

AB Mauri Lanka has been empowering the growing bakery sector in Sri Lanka; from the small neighbourhood bakeries to the big time operators and well-known names. The bakery expertise they have provided the industry has resulted in the upgrading of bakery standards and quality levels, which in return have propelled the industry to greater heights.

Surajdeen says that the new investment will contribute towards greater expansion while facilitating the introduction of a state-of-the-art range of ready-to-bake pre-mixes to the market. The portfolio is currently available in sponge, doughnut, muffin and choux pastry mixes, greatly benefitting the standards of the bakery industry that stays in touch with trends taking place globally.

AB Mauri's exceptional knowhow in yeast and their technological capabilities for bakery operations gives then the edge, he adds, pointing out that their brands of Mauripan and Prime remain market leaders.

Taking the yeast business further, AB Mauri also reaches sectors such as bioethanol, alcoholic beverages, pharmaceutical and animal nutrition, thus creating a wider reach within the country's industrial sphere.

AB Mauri is a devolved business of Associated British Foods Plc (ABF) and is based in London, England. ABF, a diversified group of businesses with global sales of £12.8 billion, operations in 48 countries and has 124,000 employees while being grouped into five key business segments – Ingredients, Sugar, Agriculture, Grocery (consumer) and Retail (fashion).

The company strongly believes in Sri Lanka's potential to grow as a destination of the future and remains fully committed to the advancement of the bakery sector, he said in conclusion.