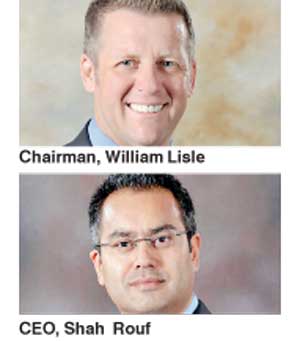 AIA Sri Lanka has reported a consolidated profit after tax of Rs. 95 million for the nine months ended 30 September, compared with Rs. 199 million in the corresponding period in 2014.

The lower profit was mainly attributable to the increase in claims in the general insurance business. The surplus of the life insurance business is reported annually at the year end and is therefore not included in the third quarter profit.

AIA's consolidated revenue was up 3% to Rs. 11,015 million, mainly driven by the increase of net earned premiums in both life and general insurance businesses, partially offset by reduced investment income due to movement in market value of equity instruments.

Composite gross written premium (GWP) income grew by 19% to Rs. 8,979 million driven by continued growth momentum in conventional life business.

GWP of conventional life business grew 23% to Rs. 5,271 million accounting for 87% of the overall Life GWP.

GWP of life business grew by 14% to Rs. 6,093 million and GWP of general insurance increased by 30% to Rs. 2,886 million.Shah Rouf, Chief Executive Officer of AIA Sri Lanka, said: "AIA Sri Lanka delivered a strong GWP growth of 23% in conventional Life business in the first three quarters of 2015, compared with the corresponding period in 2014.

On 23 October 2015, we announced completion of the divestment of our general insurance business which enables us to entirely focus our resources in growing and developing our core business of life insurance in Sri Lanka."

William Lisle, Chairman of AIA Sri Lanka, said: "AIA Group is fully supportive of AIA Sri Lanka to continue to meet the growing protection and long-term savings needs in the country, in accordance with the vision of AIA Group to become the pre-eminent life insurance provider in the Asia-Pacific region."

AIA Group Ltd. and its subsidiaries comprise the largest independent publicly listed pan-Asian life insurance group. It has a presence in 18 markets in Asia-Pacific – wholly-owned branches and subsidiaries in Hong Kong, Thailand, Singapore, Malaysia, China, Korea, the Philippines, Australia, Indonesia, Taiwan, Vietnam, New Zealand, Macau, Brunei, a 97% subsidiary in Sri Lanka, a 26% joint venture in India and representative offices in Myanmar and Cambodia.

The business that is now AIA was first established in Shanghai over 90 years ago. It is a market leader in the Asia-Pacific region (ex-Japan) based on life insurance premiums and holds leading positions across the majority of its markets. It had total assets of $ 172 billion as of 31 May 2015.

AIA meets the long-term savings and protection needs of individuals by offering a range of products and services including life insurance, accident and health insurance and savings plans. The Group also provides employee benefits, credit life and pension services to corporate clients. Through an extensive network of agents, partners and employees across Asia-Pacific, AIA serves the holders of more than 29 million individual policies and over 16 million participating members of group insurance schemes.