By Charumini de Silva

The Asian Development Bank (ADB) yesterday commenced its first auction of a $12.5 million tranche to channel $ 100 million of total funds to boost Lankan SMEs.

"This is the first time the ADB is allocating funds through dedicated financial institutions via an auction that submits the highest bids," ADB Senior Finance Specialist Donald Lambert told journalists in Colombo yesterday.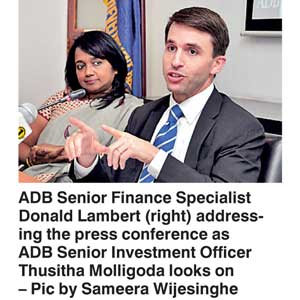 The multilateral donor agency will initially provide funds to the Government at the six-month London Inter-bank Offered Rate plus 50 basis points, which will re-finance the winning bidders at a rupee rate set at the auction. The Government will be repaid by the banks in Rupees 10 years later to resettle the ADB.

He said the auctions would set a market determined rate for their funds, which would also allow banks which are faster at disbursing credit to get more funds.

He pointed out that because such loans often carry higher administrative and credit costs, the auctions would allow the banks to account for the higher costs of SME lending in their auctions bids and thereby preserve their incentives to lend to SMEs which were most in need of financing.

The bank will have to bid at a 10-year fixed Rupee rate, with the exchange rate risk being passed on to the Government.

When asked why Non-Banking Financial Institutions (NBFIs) that have a better reach on SMEs were not selected, he said: "We have well-established relationship with the banks and thought it was best to start with them."

According to Lambert, the Finance Ministry has appointed a special Project Management Unit which will be responsible for ensuring the smooth function of this credit line and has contracted KPMG to supervise the auction procedures.

Despite 10 banks being invited to bid for the auctions selected by the due diligence recommendation given by the Finance Ministry, he asserted that they had received only five bids thus far (by last morning) and were expecting more.

Outlining lending criteria designed to reach marginalised borrowers, Lambert said banks were required to lend 50% portion of the auctioned funds to the SMEs that are located outside Colombo District, while 10% of loans would be for new clients and 5% to women-led SMEs and for uncollateralised working capital. The rest can be loaned to any SME without restrictions.

Lambert asserted that after the auction, banks could draw down on the funds from end of June, which would give a period of three months to build their loan books and be ready to disburse by end of June.

The ADB will have eight such auctions every March and September over the next four years.

SMEs are responsible for 30% of Sri Lanka's Gross Domestic Product, and provide 35% of the country's jobs. However, many fail to grow because their lack of credit history or collateral means they are unable to borrow from banks. Banks, meanwhile, must deal with higher operating and credit expenses and often cannot recover these costs through higher loan pricing.

A typical solution in the past has been to provide subsidised loans, but these ultimately distort the market in a way that undermines financial stability.

The Japan Fund for Poverty Reduction will provide a complementary $2 million technical assistance grant for business development and financial literacy training for women entrepreneurs in promising export-generating sectors to promote SME demand for the funding, independent administration of the auction, and developing the business plan for a national credit guarantee scheme for SMEs.

The ADB, based in Manila, is dedicated to reducing poverty in Asia and the Pacific through inclusive economic growth, environmentally sustainable growth, and regional integration. Established in 1966, it is owned by 67 members—48 from the region.