By Charumini de Silva in Yokohama, Japan

While encouraging open trade and investment between regional countries, Asian Development Bank (ADB) Economic Research and Regional Cooperation Department Chief Economist and Director General Dr. Yasuyuki Sawada cautioned Sri Lanka to be vigilant on monetary and fiscal policy challenges as well as commodity price risks to mitigate any vulnerabilities in the region.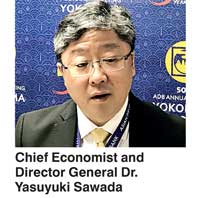 Sharper than expected rise in US Fed interest rates, changes in global trade policies and rising household debt in some Asian economies were outlined by him as key concerns for Sri Lanka's growth projections for the next two years.

"If the proposed Free Trade Agreements (FTAs) facilitate more trade relationship, more exports and imports, more investment; I think that is going to be a plus for the growth rate and economic performance not only for Sri Lanka but also among the engaged economies. However, I think the three policy-driven risks are concerns for Sri Lanka," he added.

Dr. Sawada reviewed the economic outlook of the Asia Pacific and outlined five key ADB messages for the regional countries.

Firstly, he observed that the region is expected to see solid growth of 5.7% in 2017 and 2018, compared to last year's 5.8%, a slight decline of 0.1%. Secondly, he said that China's controlled growth moderation has somewhat offset positive effects coming from improving economic prospects from advanced economies including the US, Euro zone and Japan.

With global commodity prices picking up he noted the third factor to be the increased forecast on inflation in the region. "This year's inflation forecast is 3%, while it is predicted to increase to 3.2% next and year. Although there is an increasing inflation forecast for 2017 and 2018, it is within the manageable levels," he added.

As the fourth point he asserted that the key risks to the Asian outlook stems from policy directions of the advanced economies.

Dr. Sawada cited that to transcend the middle income challenge; countries need to focus on innovation, human capital and infrastructure in order to promote productivity growth and improve high income within middle income countries in the Asia Pacific region.

Highlighting the outlook for each sub-region in the Asia Pacific he said that 30 out of 45 developing member countries (DMCs) of the ADB will pick up growth except South East Asia.

He pointed that the slowdown in Asia is mainly due to control moderation in China's growth rate, where it currently represent 60% of GDP in Asia. However, in Central Asia, he said that they foresee a growth of 3.1% this year and 3.5% in 2018.

According to him, South Asia seems to be enjoying the highest growth in the Asia Pacific region with 6.7% growth prediction for 2017 while 7% growth in 2018 and 7.2% in 2019. Justifying the growth prospects in the South Asian region he stressed that it was a mainly generated through the improving growth rate of India; rising from sound domestic consumption, policy reforms — which embraced other businesses. South East Asia is predicted to grow at 4.7% in 2017 and 4.8% in 2018 largely due to the policy reforms and active infrastructure development.

Dr. Sawada also cautioned on the policy changes taking place in the advanced economies especially which are related to trade. "This uncertainty will disgruntle some investment and consumer sentiments, downward pressure in gas and commodity prices."

He said that although the decline in oil prices is good news for importers, it would be harmful for the resource exporting economies especially in Central Asia.

In addition, he raised concerns on countries that are facing domestic debt, especially household indebtedness. "I think this is debatable, especially in the South East Asian countries like Malaysia which is currently having a high rate on this arena and South Korea," he added.