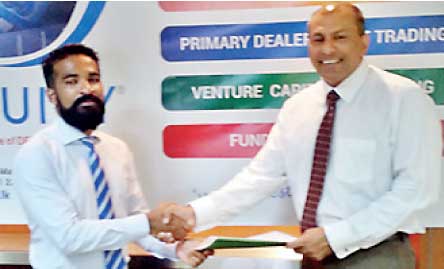 Acuity Partners Ltd. (APL) and the Maldives Security Depository Company Ltd. (MSDC), a part of the Maldives Stock Exchange (MSE), yesterday announced the signing of a Memorandum of Understanding (MOU) to offer investment banking services including corporate finance advisory and capital raising services to Maldivian corporates.
The MOU is part of a wider initiative by the MSE to explore possibilities of listing or dual listing Maldivian entities on the proposed US$ Board of the Colombo Stock Exchange (CSE), and also exploring other avenues for raising equity and debt capital given the limited size and liquidity of the Maldivian capital markets.

The Maldives has a number of large, successful corporates in areas such as hospitality, trade and services, as well as a growing SME segment. It has been identified that the limited capital raising options in the Maldives, apart from traditional bank financing, is an impediment to future corporate growth potential. The initiatives by the MSE seek to address these shortcomings.

Acuity is a joint venture investment bank promoted by HNB and DFCC Bank, two of Sri Lanka's premier banking and financial institutions. Acuity offers a fully-fledged investment banking capability offered through itself and its subsidiary companies, which include Acuity Stockbrokers Ltd., Acuity Securities Ltd., Lanka Ventures PLC and Guardian Acuity Asset Management Ltd.

The investment banking services offered by Acuity include corporate finance and advisory, private equity and venture capital, stock broking, primary dealership of government securities, asset management and research.