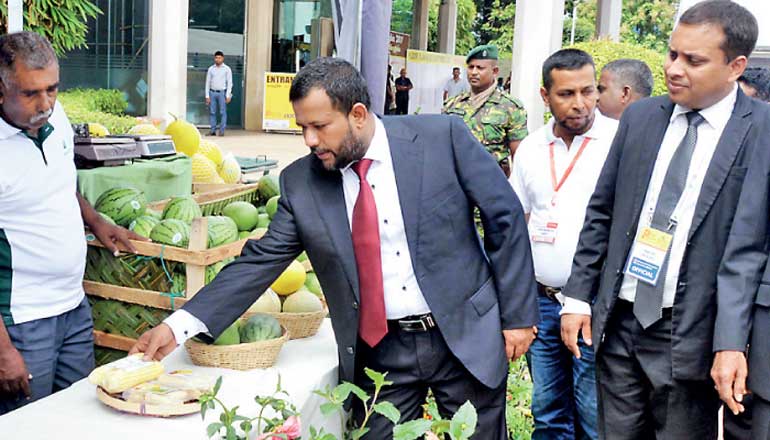 Deutsche Gesellschaft für Internationale Zusammenarbeit (GIZ) is hosting an Organic Pavilion at the ongoing ProFood, ProPack 2017 exhibition, which is being held at the Sirimavo Bandaranaike Memorial Exhibition Centre, in order to promote Sri Lanka's organically certified agricultural products to the European market.

ProFood ProPack, which is Sri Lanka's largest food, beverage and packaging exhibition and organized by the Sri Lanka Food Processors Association (SLFPA), will be ongoing until Sunday, 6 August. The exhibition is being held for the 16th consecutive year.

The market for organically-certified agricultural products has seen a tremendous growth over the last decade. The European organic market is by far the biggest in terms of consumer size as well as volumes. The promotion of organic value chains in Sri Lanka not only creates income growth and new employment opportunities, but also contributes to the sustainable management of natural resources, as well as to improve food safety and quality.


GIZ's Organic Pavilion will explain necessary steps companies need to take in order to successfully access and market their organic products, including soil preparation, organic certification, information on tax exempted EU export goods and information on the access to the European organic market.

The pavilion will feature organisations such as the Export Development Board (EDB), Sri Lanka Standards Institution (SLSI), Lanka Organic Agriculture Movement (LOAM), European Chamber of Commerce in Sri Lanka (ECCSL) and Control Union. A number of organic producers from the Northern and Eastern Provinces are exhibiting their products at the ongoing exhibition.

This initiative is supported by Ceylon Chamber of Commerce.

In order to promote the organic agricultural sector, in Sri Lanka, GIZ works closely with SMEs and farmer associations/cooperatives by providing advisory services, technical support on certification processes for the European market, and by actively linking Sri Lankan organic producers to buyers in the EU.

On behalf of the Federal Ministry for Economic Cooperation and Development (BMZ), the SME Sector Development Program of the GIZ and the Sri Lankan Ministry of Finance aims to increase the competitiveness, inclusiveness and environmental sustainability of Small and Medium-sized Enterprises in the Northern and Eastern parts of Sri Lanka, as well as in other secondary growth areas.

The Ceylon Chamber of Commerce has been serving the nation during the last 178 years and is engaged in helping shape the national economic transformation, in order to steer Sri Lanka to greater heights.