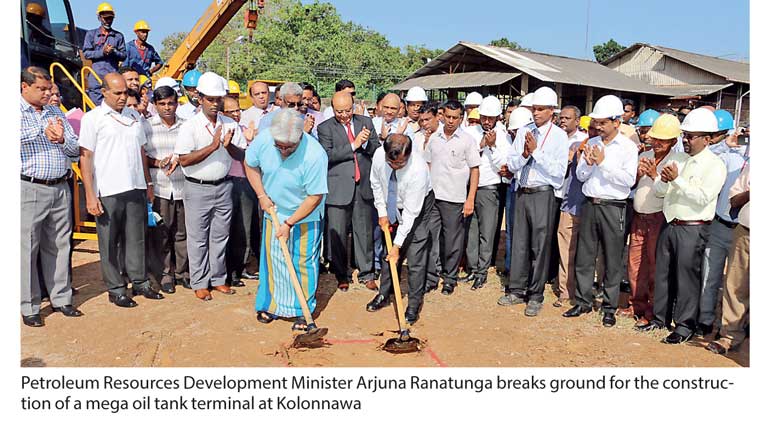 Work on the first oil tank terminal in Kolonnawa in 40 years began last week at the Ceylon Petroleum Corporation (CPC) premises.

This project, which gained Cabinet approval, includes 10 oil tanks, of which three have a capacity of 11,200 MT, an aviation fuel tank with 11,900 MT, a diesel tank with 12,600 MT, three diesel tanks with 5,800 MT, a kerosene oil tank with 5,600 MT and a diesel tank with 3,800 MT.

At the ground-breaking ceremony, Petroleum Resources Development Minister Arjuna Ranatunga stated that the Government planned to initiate this project because of the high demand of fuel consumption. After 2009, the increment of fuel consumption stands at 90% which amounts to 7% annually.

The Minister stated that the Government expected to increase fuel storage up to 60 days from its current 30 days.

"Even though the Cabinet gave its approval to initiate this project years ago, it did not begin until now. We have taken steps to initiate this project by informing the Cabinet of it. All of us knew about the fuel crisis which took place. I never say it's a good sign but I always notice a good sign in every bad situation. After this crisis, everyone, including the President, Prime Minister and the Cabinet, understood the significance of fuel storage.

We received the blessing of the President and the Prime Minister for this project. We have also taken steps to repair the current pipeline system after 40 years. There's a controversy over the Trincomalee oil tanks. No one wanted to use these tanks and they have deteriorated. We expect to use the deteriorated oil tanks too. We also expect to discuss speak the IOC, under the 18-year contract, to develop this together. Even though I'm against privatisation, we can look for a better foreign investor to develop the country favouring us," said Minister Ranatunga.

The capacity of the fuel tank to be constructed is 11,200 MT and it will cost Rs. 412 million to build. Under the supervision of the engineers of the CPC, the project is expected to be completed within 18 months.

Ministry of Petroleum Resources Development Secretary Upali Marasinghe stated that they have already completed 80% of the work to lay a new pipeline from the Colombo Port to Kolonnawa. CPC Chairman Dammika Ranatunga added that the organisation expected to use the new technology and knowledge to distribute fuel efficiently. Several dignitaries, including Ceylon Petroleum Storage Terminals Ltd. (CPSTL) Managing Director Sanjeewa Wijerathna, graced the occasion.