Claims economy has been contracting since 2014 and SLPP presidential aspirant Gotabaya Rajapaksa ready to start engines of growth again
Blames Govt. for following IMF policies and hindering businesses and job growth
Godahewa claims Rs. 1 t increase in revenue from IMF-led tax policies between 2014 and 2019
Rising interest rates, faster depreciation of rupee swelled debt repayment from Rs. 434 b in 2014 to Rs. 1 t in 2019
Central Bank Governor during former President Mahinda Rajapaksa's regime Ajith Nivard Cabraal on Friday declared "We are ready to take over" and kick-start the economy, which he said has been contracting since 2014.

"We are on top of the situation and we are ready to take over. We are ready to start the engines of growth again. We will not say we need three more months to think about. For the last four years, we have been thinking and strategising about rejuvenating the economy," said Cabraal, adding that the SLPP presidential aspirant Gotabaya Rajapaksa's manifesto has 12 strategies to revive the economy and make it robust. Cabraal made this assertion when he spoke at a pro-Rajapaksa forum focusing on 'Financially sustainable economic development – Let's put Sri Lanka on a winning path'.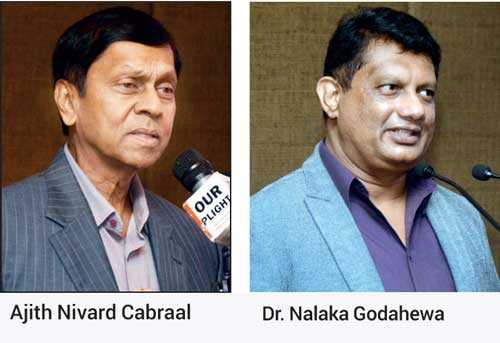 He claimed that there was general apathy as far as businesses were concerned and the economy has been contracting. He added: "A contracting economy makes people shy away from the economy. That is where we are in now."

Speaking at the same forum, former SEC Chairman Dr. Nalaka Godahewa said that from an average growth of 6.8% between 2010 and 2014, the economy has slumped to a growth of only 4% between 2015 and 2018. This year, growth is projected to be as low as 1.6% whereas actually it will be less, he added.

Cabraal said, given the loss of growth under the current regime, there was a need to kick-start the economy.

"Today if you go to the Government and tell our businesses are struggling, the response will be 'what can we do?' or 'we cannot do anything'. We cannot take that attitude but will support businesses," Cabraal claimed, recalling how in 2008, when tea trade was suffering due to conflicts in the Middle East, the Government chipped in through the Tea Board.

He also said that a SLPP Government won't give excuses as to why the economy cannot be developed or why the private sector cannot be helped. He recalled how the Mahinda Rajapaksa regime persisted with the promised fertiliser subsidy in spite of soaring global prices. "This was to support farmers and enhance food security. In 2009, the US and the world suffered negative growth but Sri Lanka managed to grow by 3.4%. We found the money to fund the war against terror and end it," Cabraal said.

Tracing some of the causes for the economic downturn, he said the Bond scam led to a serious loss of confidence and subsequent events led to Sri Lanka not being on the right track.

The former Central Bank Governor also blamed the Government for doing what the International Monetary Fund (IMF) wanted. "They wanted to boost tax revenue to GDP without a clearer idea. When you increase the tax to GDP ratio, they are actually taking money out of people's pocket," Cabraal said, adding that some of the moves such as the super gains tax of Rs. 60 billion in effect took away projects for Rs. 200 billion or 2% of GDP. This, he said, led to a loss of momentum along with the Government stopping various projects, such as the Port City and hotel projects.

At the forum, Godahewa claimed that there was a Rs. 1 trillion increase in revenue from IMF-led tax policies between 2014 and 2019 whilst Cabraal noted: "However, today, most of the people are not paying taxes because there is no income. Businesses are not investing hence there is no job creation or livelihood."

Another reason was the increase of interest rates by 3% on the day of the Bond scam from 9.5% to 12.5%. From a three-month Treasury bill to a 30-year Treasury bond, the interest rate went up and the Government had to pay more, he said.

"We paid Rs. 434 billion in interest in 2014 but this went up to Rs. 540 billion in 2015 and Rs. 610 billion by 2016, and Rs. 753 billion in 2017, and Rs. 853 billion last year. It will be Rs. 1,000 billion (Rs. 1 trillion) by 2019," said Cabraal.

"What does Rs. 600 billion more as interest in four years do to the economy and the country?" asked Cabraal. "The Colombo-Katunayake Expressway cost Rs. 37 billion. So, Rs. 600 billion means multiple expressways. It is no wonder the country is in a mess," he told the forum.

Referring to the rupee, Cabraal recalled that when he left the Central Bank, the exchange rate was Rs. 131 whereas today, it is Rs. 182, up by Rs. 50. He also recalled that in January, Prime Minister Ranil Wickremesinghe had said the country has to repay $ 5 billion in debt, of which Cabraal said $ 4 billion was due to those taken by the current Government. "With a rupee depreciation of Rs. 50, the country incurs an additional cost of Rs. 250 billion in debt repayment. This cost is equivalent to seven Colombo-Katunayake Expressways. This is because the Government hasn't managed the rupee well."

According to the Central Bank, in 2018, total debt increased by Rs. 1,063 billion (Rs. 1 trillion).

Cabraal said the allegation was that when President Mahinda Rajapaksa built a road, there were kickbacks, hence the cost was higher. "However, that expressway is there today and being used. Today, if we were to build the expressway, the cost would be Rs. 50 billion." He suggested the irony is that against these allegations, this Government has added Rs. 1,0630 billion to the country's debt with no roads built.

Dr. Godahewa, during his presentation at the forum, highlighted the causes for the downfall of the economy. Among them were lack of direction and mismatch in ideals of the coalition parties of the Government that took office in 2015.

By pursuing political victimization, the Yahapalanaya Government also had the wrong focus from the beginning, he claimed, adding that the bond scam caused early loss of reputation. Another cause was poor management decisions leading to loss from the Hyatt Hotel arbitration and cancellation of airbus order of SriLankan Airlines.

Godahewa said a regime under Gotabaya Rajapaksa would bring back business confidence by simplifying the tax system, revisiting outdated laws and regulations that hinder business activities, negotiating with banks for temporary relief, and allowing grace periods for loan settlements. It would also prevent opportunities for corruption at the institutional level, prevent corruption at political and administrative levels, revamp strategic SOEs with better management input, and aggressively support growth industries.

These are in addition to re-establishing national security, promoting meritocracy and technocracy in government, and completing incomplete infrastructure projects, among other measures.
Pix by Upul Abayasekara