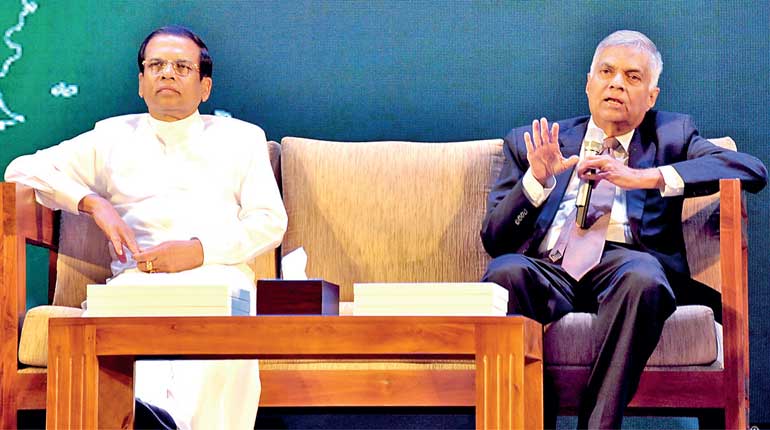 President Maithripala Sirisena and Prime Minister Ranil Wickremesinghe responding to questions from youth representatives during the 'V2025: A Country Enriched' launch – Pic by Lasantha Kumara
By Uditha Jayasinghe

Presenting a united front, President Maithripala Sirisena and Prime Minister Ranil Wickremesinghe yesterday jointly unveiled the Government's policy framework titled 'V2025: A Country Enriched', which detailed the broad goals that the two parties wished to achieve over the next few years.

The launch, which gave prominence to youth and reconciliation, did not feature speeches by Sirisena or Wickremesinghe but instead had a discussion where the two leaders answered questions from young people including members of the youth parliament who joined them onstage. The choreographed event at the BMICH was also attended by ministers, MPs, top public officials and members of the diplomatic community.

"A Consensual Government is a new concept to everyone. It is new not just for the politicians but for the people and even the world. It brings together two deeply antagonistic parties in the hope of developing Sri Lanka. Understandably this cannot be done easily. We have to start thinking communally. We have to think 'this is for our family, for our children'. Only then will we come together to develop on a common platform shared by all communities," President Sirisena said.

The Prime Minister, responding to questions in his turn, emphasised the opportunities available to the youth and called on young people to ask their conscience if the Government was rolling out policies that benefitted them.

"If we are doing something good then you can support that," he said, adding, "we are giving something new to a new generation. We have accepted the challenge and we are now moving forward. When we came to power we had to deal with high levels of debt. When we increased VAT everyone blamed us but because of it we have now managed to make the economy more stable."

Both leaders concurred that the Government had created space for open deliberation, discussions and adjustment of ideas. They both stressed that the country has the building blocks to embark on a new chapter of growth and development. Sirisena stressed that the development should be equitable and inclusive, recapping the benefits of new laws such as the Right to Information and the 19th Amendment.

"Today politicians are scared to do wrong because they know that the law can catch up to them. Anyone living in civilised society should have shame and fear. Only animals live without these. When I say fear it does not mean suppression or fear for their lives but they should fear to do wrong because they have to face the repercussions of that law. This is being felt by politicians now," the President said.

"Now that the most difficult years are behind us and socioeconomic stability has been created, investment will flow in. We are a country without conflict where businesses can invest without fear. What we need to do is become more competitive and in tune with the rapidly changing world. Then Sri Lanka can match anyone in the world," the Prime Minister said.

Despite the glossy launch, the policy document, which also contained a 'Three Year Economic Delivery Programme', was short on specifics. Both leaders also stuck to overarching statements that underscored election pledges such as creating one million jobs and highlighted past achievements including regaining GSP+ and increasing wages of public servants.

"Over the next years, within the 2025 Vision, we will implement a comprehensive economic strategy to address constraints to growth. We will aim to raise per capita income to $ 5,000 per year, create one million new jobs, increase FDI to $ 5 billion per year and double exports to $ 20 billion per year. These intermediate targets lay the foundation for our Vision 2025: Sri Lanka to become an upper-middle income country," read the page titled 'A Three Year Economic Delivery Progamme'.

Other sections such as Constraints to Growth identified persistent fiscal deficits, poor investor confidence, poor export performance and limited public finance as culprits. The booklet also reiterated previous Government pledges to increase direct taxes, increase public revenue to 16% of GDP, allow a floating exchange rate and continue fiscal consolidation.

"We will maintain public investment at 5-6% of GDP for the period 2017-2020. We will use this for economic infrastructure development and for human resource development projects in education, healthcare, R&D and vocational training instead of buildings as has been done in the past," the document said.

Under rationalisation of Government expenditure, the policy statement said state-owned enterprises (SOEs) would be restructured with the pricing of their goods and services to be at market clearing rates. Subsidies by SOEs will be provided directly to the targeted population.

"We aim to bring the debt to GDP ratio down to 70% by 2020. To this end we have formulated a forward-looking liability management strategy for domestic and foreign debt under the medium term debt management strategy. This will address the high public debt stock while focusing on meeting Government cash flow needs using an appropriate composition of domestic and foreign debt instruments and maturities."

In the Strengthening Growth Framework section, the policy document recaps the Government's intention to put Sri Lanka among the top 70 Ease of Doing Business countries on the World Bank index. It then says the Government will "clarify and reform investment incentive policies to improve investment policy predictability" but gives no timelines or specific steps. Under this section the document also details intentions to encourage public-private partnerships, integrate SMEs into the formal sector and identifies the need to reduce para-tariffs.

"We have formulated a new trade policy, along with an original National Export Strategy. These aim to create a more liberal, simple, transparent and predictable trade regime. These policy changes will attract more export-oriented FDI, improve trade logistics, make customs procedures transparent and quicker, and boost firms' abilities to compete in global markets."

Ongoing discussions for trade pacts with India, Singapore and China will continue but the Government will develop a trade adjustment program to mitigate competition impacts. "The Government will ensure anti-dumping laws are passed to protect domestic firms…..By implementing these trade adjustment packages we will enable all domestic enterprises to become competitive while mitigating any negative impacts of liberal imports."

The policy framework also touches on positioning Sri Lanka as a global logistics hub, expanding tourism, reforming land labour and capital markets, establishing economic corridors, developing agriculture, social safety nets, technology and digitalisation and governance.

"The Government will review key legislation and make necessary amendments to free up land for economic activities and introduce a unified legal framework. We will establish a land bank to facilitate these efforts."

The policy framework pledges to usher in "an era of economic prosperity for all Sri Lankans" that will see a "new growth framework underpinned by a clear and transformative process of economic policy reforms" and establish "a strong macroeconomic foundation to lay the basis for a broader reform effort."

"We Sri Lankans can look forward to a prosperous period ahead with higher living standards and the social mobility that comes with it. Efforts to diversify, upgrade and deepen Sri Lanka's production and export base will help the transition to meet the legitimate aspirations of our citizens for better living standards. The changes emerging from these structural social changes will result in the formation of a strong and influential middle class that can propel Sri Lanka to successfully make that leap to a rich country," the documents said in its conclusion.