Vipula Gunatilleka has been appointed as the Interim Group CEO with immediate effect at SriLankan Airlines. He re-joined SriLankan as the Group Chief Operating and Finance Officer of SriLankan Airlines from 1 August.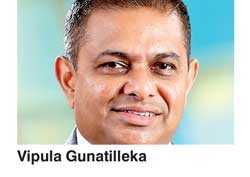 Gunatilleka held the position of CFO at SriLankan Airlines when the Airline was managed by Emirates, and played a pivotal role during the management transition from Emirates Airline to the Government of Sri Lanka. He has held senior leadership positions across companies in Sri Lanka, Singapore and Australia.

SriLankan Board also announced that D. A. G. Jayasuriya, who has served the airline in the past, will fill the vacancy created by the resignation of Chief Technical Officer D. Padmaperuma.

Cargo operations will come under the Head of Cargo along with Cargo Sales. The Head of Cargo will continue to report to the CEO until a suitable replacement is found for the position of the Chief Commercial Officer.