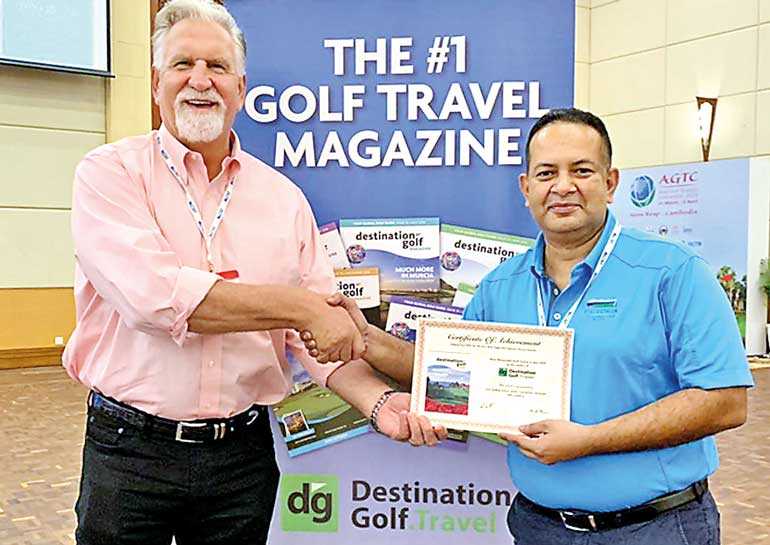 The Victoria Golf & Country Resort General Manager Asela Wavita being presented the certificate for the 'Most Memorable Golf Course in Asia 2019' by Sam Sokocius, Member of the Panel of Judges and Golf Travel Writer of Destination Golf
The Victoria Golf & Country Resort, Digana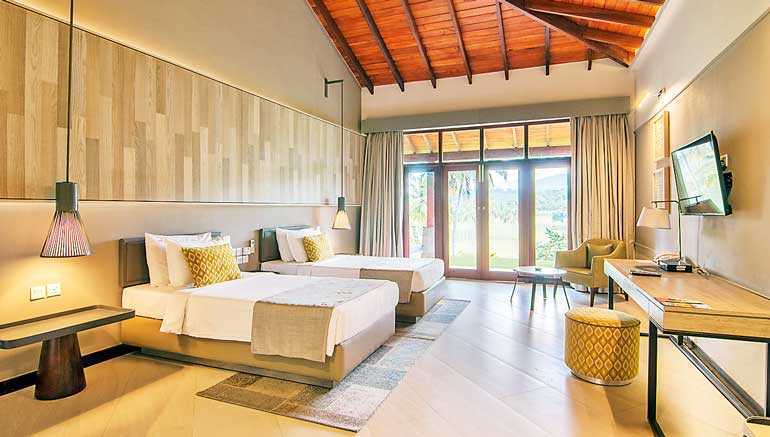 A room at The Victoria Golf & Country Resort
---
Owned by John Keells Holdings, The Victoria Golf & Country Resort sits on an 18-hole golf course, which is designed to international U.S.G.A. standards. 

Spread across a vast landscape of greenery, which constitutes well over 500 acres of prime land, this unique property is one of the most sought-after destinations in Sri Lanka by both locals and foreigners. A testament to the property's desirability can be seen in the veritable list of awards and accolades that it has been bestowed with in addition to securing a slot among the '100 Most Beautiful Golf Courses in the World'.

In keeping with this theme of quality and uniqueness, The Victoria Golf & Country Resort has recently been awarded the title of the 'Most Memorable Golf Course in Asia 2019' by Destination Golf; the latter is one of the leading golf travel publishing companies, which is recognised and respected globally. Moreover, Destination Golf is an approved member of International Association of Golf Tour Operators (IAGTO). The Victoria Golf & Country Resort is no stranger to winning awards – It has bagged the award for 'The Best Golf Course in the Sub-Continent' on no less than nine separate occasions. 

The Victoria Golf & Country Resort General Manager Asela Wavita stated, "We are thrilled that a prestigious publication, which is globally recognised and is held in high esteem within the golfing world, along with its readers has recognised this 22-year old property as the most memorable golf course in Asia for 2019. The popularity and longevity of this property along with the consistency in terms of quality is down to the hard work and effort of a dedicated staff that believes in exceptional customer service above all else."

Moreover, Troon International, which is the leader in golf course management, development, and marketing, has partnered with The Victoria Golf & Country Resort for management. At present, a multi-phase course enhancement is currently taking place, which includes the re-grassing of fairways, a state-of-the-art irrigation system, with the food and beverage facility being fully operational. This will no doubt further enhance the total experience and the playability of the golf course, letting golfers of all skill levels to enjoy themselves.

Regarded as the world's largest professional club management company, Troon International is present in over 34 countries and manages over 510 golf courses around the world, and is presently a service and management partner of The Victoria Golf & Country Resort; the company's expertise to further raise the standard of golf course management in Sri Lanka will in effect offer more value to an international golfing experience that is inimitable to say the least.

The Victoria Golf & Country Resort in Digana was designed by Donald Steele in 1997, and is an award-winning property that encompasses well over 500 acres of prime land, which is also home to a diverse array of flora and fauna. Throughout its history, this well-loved property that promises vistas of the Victoria Dam and the Knuckles Mountain Range. Open to golf aficionados and also leisure seekers, this resort in Digana is well-facilitated, comes with five-star amenities and features, and is also designed to host events, which are of a corporate nature, including social events like weddings, anniversaries and birthday parties.