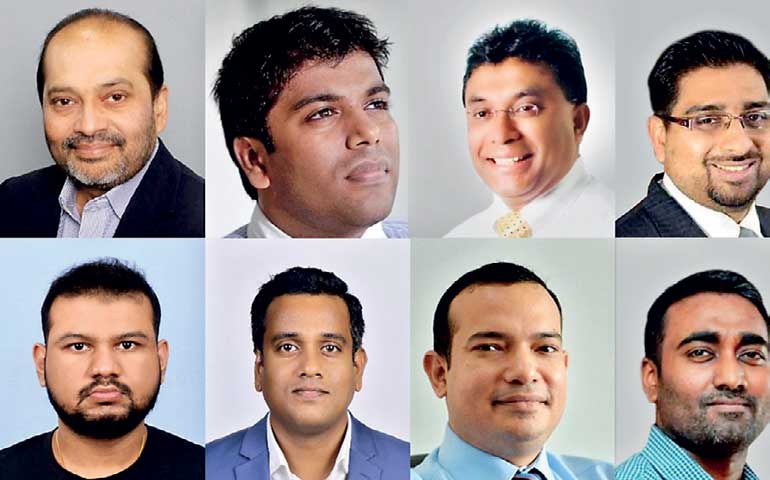 The leadership team of Veracity Group
Veracity Group, one of Sri Lanka's fastest-growing technology services companies has structured itself with new appointments to key leadership roles as well as its four main divisions.

Veracity Group aims to be the largest integrated disruptive platform with capabilities from Web 3.0, managed services, FAO, software development, integrated digital marketing, IoT, blockchain, and AI/ML. 

This new structuring brings out its key strengths in a manner that will help the company accomplish this goal.

Through its network of partners and clients, Veracity Groups challenges the boundaries of technology and has helped build many award-winning products and platforms. 

The group currently employs approximately 300 staff and services 30 plus customers across Australia, Singapore, Norway, India, the U.S, and the Middle East.

Some of the key new appointments are, Veracity Groups Chairman Eric Selvadurai, he possesses over three decades of experience has experienced multiple spheres of management, including Business Process Management. He has several years of experience in setting up large-scale IT offshoring operations in Sri Lanka and South Asia and has taken several public. He has also held several key leadership positions across global organisations.

Anton Ravindran will serve as its Independent Non-Executive Director and is currently the Founder of SmartLaw. He has been in the IT industry for nearly three decades and worked for IBM Labs, CA, Sun Microsystems, and Oracle. Subsequently, he won several accolades as an entrepreneur including the Entrepreneur of the Year Award in 2005 and 2006.

Jeevan Gnanam will serve as the Group Chief Executive Officer (CEO) and Vice President (VP) of Veracity Technologies.  A seasoned entrepreneur and innovator, he has spearheaded the expansion of many global businesses out of Sri Lanka. He takes on a dual role as the operational CEO and VP of Products and Innovation and heads several of the new product initiatives for the group.

Veracity Digital, one of the four main divisions, focuses on building capability in cutting-edge technologies such as AI/ML and Web 3.0. Digital be led by Jerome Perera and Dilanka Asiri.  

Perera leads a team of multidisciplinary technology professionals focused on driving innovation through data sciences and AI. Counting over 14 years of experience in Data Sciences, Machine Learning, and Business Analytics, he has worked in multiple countries and has experience working with Fortune 500 corporations. 

Asiri specialises in Micro-services architecture, delivering IoT, Web 3.0, and blockchain and building technology solutions to solve complex problems. Asiri has experience in Software Development and management. 

Veracity Services which focus on Business Process Management for CX journeys, F&A, BPM process optimisation as well as RPA hyper-automation will be headed by Vice President Rohith Pradeep, and COO of Veracity Services Shazil Ismal.

Pradeep is a seasoned professional with experience across many verticals including finance, marketing, human resources, IT, and operations across various local and multinational organisations.

Ismal counts for over 19 years of experience in a diversified range of sectors. Ismal has been involved in finance migration projects from the Middle East, including setting up shared services operations. 

Veracity Ventures, the venture capital arm of the group focused on strategic investments in product and services companies in emerging technology spheres will be headed by Lakshan De Silva, who has multiple years of experience in fund management and startup ecosystems.

Veracity group's service offerings will focus on web 3.0 nativity, along with expertise in Fintech, AI/ML, Blockchain, Agri-tech all of which are key verticals in global markets.  

Veracity Group will have a strong emphasis on tech exports based out of Sri Lanka with a focus on developing a strong talent pool of technology experts of global standards. Veracity group believes that this will enable Sri Lankan companies to broaden their footprint in the global technology sector.