Says bringing companies together for collaboration will be a game changer for collective private sector effort to rebuild Sri Lanka
Sustainability, organic production not a niche, but the way to go
Insists businesses need to take responsibility for their actions
---
By Charumini de Silva
---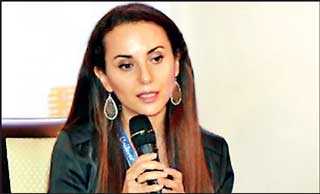 Unilever Sri Lanka Chairperson Hajar Alafifi
Global giant Unilever's Head in Sri Lanka this week called for partnerships and building brands with a purpose for the revival of the private sector post-COVID.


"We need all like-minded people to come together. Private sector needs to cooperate," Unilever Sri Lanka Ltd. Chairperson Hajar Alafifi told the Ceylon Chamber's Virtual Economic Summit this week, where the specific role of the private sector came under discussion.

"In these uncertain times, no one can say which method will work best if we continue to work in silos. We have to work in partnerships and explore collaborations. In that context, businesses also have to trust that the Government and officials are doing their utmost to help the private sector thrive. All of us need all of us," she said, adding, "Bringing companies together will be a game changer."
Alafifi highlighted how Unilever works along with its partners such as retailers, distributors and suppliers to be able to grow Gross Domestic Product (GDP).

She also asserted the need to instil sustainable practices in businesses going forward. "Sustainability and organic production is not a niche anymore, it is the way to go," she said.

As we head towards a more sustainable future, she emphasised how brands must also consider the broader implications of their decisions in terms of how they affect the planet or the unique role their brands play in the world beyond commercial gain.

Outlining how Unilever had built brands with purpose that had served generations such as Lifebuoy, Sunlight, Signal and Lipton, she insisted that businesses needed to take responsibility for their actions.

"Brands with a purpose can have a huge impact, but talking is not enough; it is critical that brands take action and demonstrate their commitment to making a difference," she stressed.

She said that this year Unilever's instant tea, where the entire process was sustainability driven and manufactured 100% in Agarapathana, had been able to beat US competitor with its ready-to-drink Lipton iced tea.

According to her, Unilever manufactures 96 of its products locally. Alafifi pointed out that employees and consumers alike would be inspired by the company's mission and feel better supporting a business that was making a positive impact rather than solely focused on making money.

"We are pushing it into every part of the company to help us deliver our vision to be the global leader in sustainable business," the Unilever Sri Lanka Chief added.