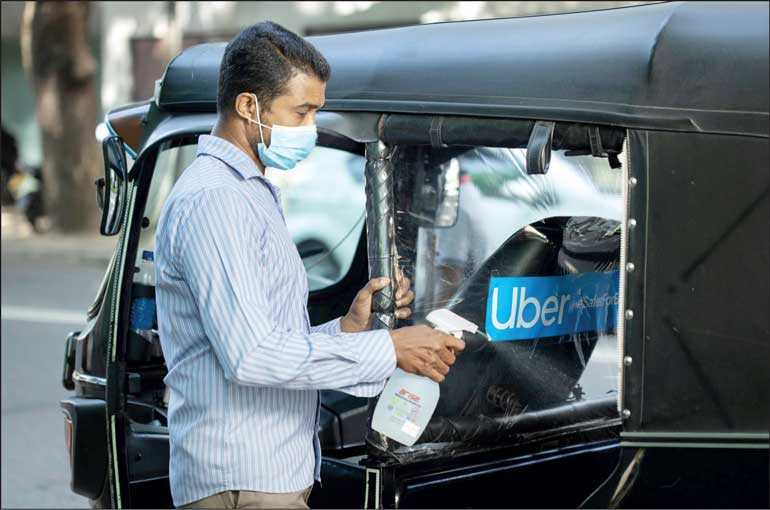 Uber driver partner follows safety guidelines 
---
Uber has led several industry first innovations in the country since 2015
Uber on 12 January marked its fifth year anniversary in Sri Lanka, during which it has served 1.8 million riders, completed more than 53 million trips and created livelihood opportunities for 110,000 drivers.

Since its launch in 2015, Uber Sri Lanka has successfully transformed the mobility landscape of the country offering citizens convenient, affordable and efficient transport options. In 2019, Uber added Moto to its product portfolio, becoming the first bike taxi service in the country, ideal for short distance commutes at affordable price points. 

Speaking about Uber's journey over the last five years, Uber Sri Lanka Head Subodh Sangwan said: "As we reach this milestone, we are committed to growing our business in Sri Lanka with continued and focused market and product innovations. As people start commuting in the new normal, we'll continue to leverage our technology to help Sri Lanka 'build back better,' offer mobility solutions that suit the changing needs of our riders, and support our community of drivers who are determined to earn despite the economic challenges brought about by COVID."

During the pandemic, Uber launched several leading product innovations such as Uber Medic, a dedicated service to transport frontline healthcare workers to and from their homes and health care facilities; and offered free rides worth Rs. 8.5 million, providing transport for Sri Lanka's real heroes. 

Leveraging its tech expertise, the company was also the first to launch a comprehensive set of Tech enabled safety measures for helping riders feel safe, every time they use Uber. This includes an interactive Go Online Checklist, a mandatory mask policy for both riders and drivers, industry first pre-trip mask verification selfies for riders and drivers, and mandatory driver education on safety SOPs. The company has also updated its cancellation policy allowing both riders and drivers to cancel trips if they don't feel safe, driving a shared sense of responsibility for everyone using the platform.  

Additionally, Uber also relaunched its on-trip 24x7 Safety Helpline in the country, which allows riders to get in touch with Uber's safety team for an urgent, non-emergency issue, such as reporting a dispute or a break-down, while on a trip and up to one hour post the trip. The Safety Helpline is in addition to the existing in-app SOS button found in the Safety Toolkit.

As the lockdown was lifted and people resumed travel, Uber was the first ridesharing company to launch Tuk Rentals in Sri Lanka, a 24x7 on-demand service which allows riders to book affordable multi-hour, multi-stop options to travel in the 'new normal.' 

Through its technology expertise, impactful partnerships and product innovation, Uber aims to support Sri Lanka's road to recovery and help the country build back better after the pandemic.
---
Uber and Sri Lanka's first 5s
UberMedic: First ridesharing company to launch a dedicated transport option for frontline healthcare workers during COVID. 
Tech Safety features: First ridesharing company to launch tech enabled safety features to make travel safer in the new normal, for both drivers and riders. 
Tuk rentals: First ridesharing company to launch Tuk rentals in Sri Lanka. 
Uber Moto: First ridesharing company to launch a bike taxi service in Sri Lanka.
Safety screens: First ridesharing company to pioneer and install safety screens in over 1,500 cars and tuks in Sri Lanka.