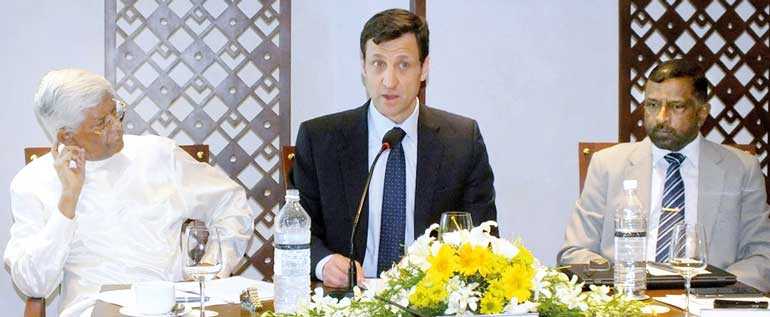 US's Bureau of South and Central Asian Affairs Security and Transnational Affairs Acting Principal Deputy Assistant Secretary Thomas L. Vajda (centre) flanked by Pathfinder Foundation Chairman Bernard Goonetilleke (left) and the Centre for Law of the Sea Director Admiral Prof. Jayanath Colombage, at the panel discussion in Colombo last week
---
The United States last week said it attaches great importance to Sri Lanka in the Indo- Pacific policy, given the island nation's strategic geographic location and economic potential.
"We view Sri Lanka as a critical partner in the region and located at the nexus of the Indo-Pacific, Sri Lanka has the opportunity to shape the region's future," US's Bureau of South and Central Asian Affairs Acting Principal Deputy Assistant Secretary Thomas L. Vajda said at a panel discussion organised by the Pathfinder Foundation titled 'US Indo-Pacific Vision & Sri Lanka's Role', where the components of the US economic and commercial strategy for the Indo-Pacific region were discussed.

Vajda said the US is working with key partners like Sri Lanka to protect and enhance a rules-based order in the Indo-Pacific that respects such principles as the peaceful resolution of disputes, freedom of navigation, open and transparent investment environments, and strong and responsible governing institutions. "These principles have created conditions that have allowed for so much growth and prosperity here and elsewhere in the region over the past decades, and in our view they will be critical to the region's future as well," he added at the discussion chaired by Pathfinder Foundation Chairman Bernard Goonetilleke, where US Ambassador Alaina B. Teplitz was also present.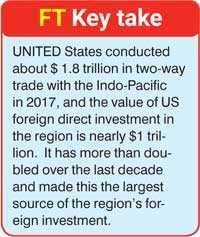 Vajda however underscored that this is not an exclusive strategy, nor is US proposing either/or relationships for partners like Sri Lanka.

"Sri Lanka is a sovereign nation and our respect for its sovereignty and that of other nations' guides our actions in the Indo-Pacific. We fully expect Sri Lanka to build and maintain mutually beneficial partnerships with all countries throughout the region and indeed around the world, just as the United States does. However, all such relationships should be transparent and truly beneficial to all parties involved over the long term. Transactions that are based on naked commercial self-interest and hidden agendas that mortgage the future also undermine the long-term stability and vitality of the region," Vajda pointed out.

He said the US's goal, both in terms of a bilateral relationship and engagement under an Indo-Pacific framework, is a Sri Lanka that is empowered through its partnership with the United States and for which broader growth means equal opportunities and gains for all.

According to him, the United States conducted an estimated $ 1.8 trillion in two-way trade with the Indo-Pacific in 2017, and the value of US foreign direct investment in the region is nearly $1 trillion. It has more than doubled over the last decade and made this the largest source of the region's foreign investment.

"There will be new opportunities to expand economic partnerships and investments and two-way trade in the Indo-Pacific, specifically between the United States and Sri Lanka. Sri Lanka has a hugely influential role to play in the region and stands to gain substantially from these opportunities," he said.

According to Vajda, the US's partnership with Sri Lanka truly covers all sectors, and most importantly, is mutually beneficial, transparent, and geared towards sustainable outcomes that benefit all people for generations to come.

"As the United States increasingly turns its focus to more robust engagement in the Indo-Pacific region, it also looks to Sri Lanka as a valued friend and a partner to be a leader in that process. We are deeply appreciative of Sri Lanka's partnership at all levels in these efforts, including from the dynamic business community here in Colombo," he added.

Vajda noted that the United States is Sri Lanka's largest export market, supporting tens of thousands of jobs in agriculture, manufacturing and service. In addition, US companies have invested more than $300 million in Sri Lanka, generating hundreds of high-quality jobs.

"We want to see Sri Lanka harness that potential and create an economy that strengthens and grows through good governance, responsible and inclusive economic policy and practices, accountability, and importantly, the rule of law," he emphasised, adding that the United States is prepared to work with Sri Lanka to foster sustainable and inclusive economic growth.

"A large part of this rests in promoting entrepreneurship and providing the brightest young minds in Sri Lanka with the space to innovate and develop ideas from concept to reality. One of our key priorities under the Indo-Pacific strategy is to accelerate private sector-led economic growth including through US companies that have a strong record of promoting innovation and prosperity," he added.