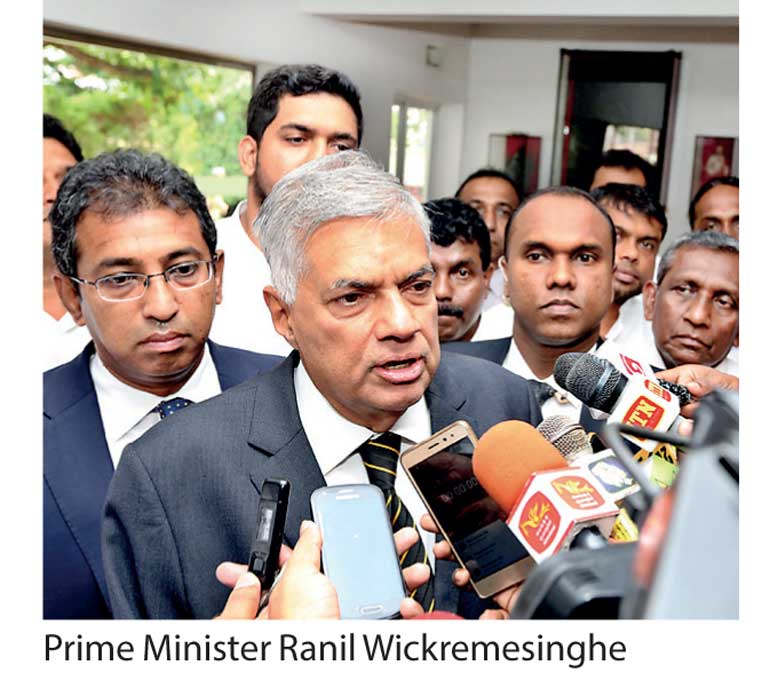 UNP MPs to handover no-confidence motion against SLFP ministers
A day after recording an easy win over a no-confidence motion against him, Prime Minister Ranil Wickremesinghe yesterday recommitted to the sweeping restructuring measures of the United National Party (UNP).

During a ceremony at the UNP headquarters Sirikotha last morning, Wickremesinghe reiterated his commitment to revamping the party and strengthening it to meet the next round of national elections.

"We are very happy that our Government has managed to record this victory even after being in power for three years.
I would like to express my gratitude to everyone who supported me and this Government to defeat the no-confidence motion. Now we must start a new journey. We must collect everyone who supports the Government, build a progressive platform for the country and move forward," Wickremesinghe said at the gathering.

Meanwhile, Higher Education and Highways Minister Kabir Hashim, who is also UNP General Secretary, stated that he resigned from the post of General Secretary of the United National Party (UNP).

"I decided to take this decision for the reorganisation of the UNP after the no-confidence motion," he said. Hashim's resignation was expected as it is part of the upcoming re-organisation of the UNP, which is expected to be rolled out in the next few weeks.

The party has said that new officials would be named on 30 April with two rounds of discussions expected this weekend to fine-tune restructuring mechanisms and plans.

In addition, the UNP is to submit a no-confidence motion against Sri Lanka Freedom Party (SLFP) ministers and parliamentarians including S.B. Dissanayake, Susil Premajayantha, Dayasiri Jayasekara and W.D.J. Senaviratne for voting in favour of the no-confidence motion against Prime Minister Ranil Wickremesinghe on Wednesday.

UNP MP Mujibur Rahaman told reporters that the motion would be handed over today. A group of six UNP MPs had also written a letter to Wickremesinghe requesting him to remove six SLFP ministers from the Cabinet for backing the no-confidence motion. The SLFP ministers in question, however, have declined to step down so far but have said that they would be willing to be directed by any decision made by President Maithripala Sirisena.

Wickremesinghe and Sirisena are expected to hold discussions on the future of the Government today.