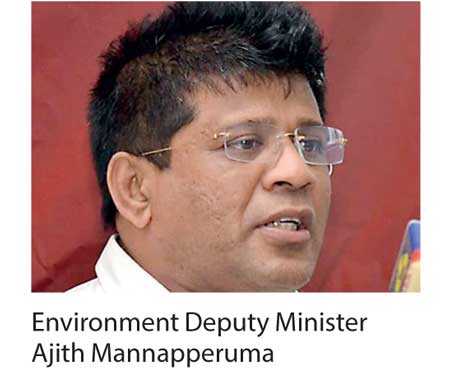 Mannaperuma says GMOA knows nothing about economic matters and should not talk of them
By Maleesha Sulthanagoda

The United National Party (UNP) yesterday defended the Sri Lanka-Singapore Free Trade Agreement (SLSFTA), insisting it was crucial for the country to attract more foreign investment and exports for economic development and slammed the Government Medical Officers' Association (GMOA) for misconstruing the intention of the agreement, stating that they did not possess the expertise to critique it.

Environment Deputy Minister Ajith Mannapperuma, speaking at a news conference held at Sirikotha, said that the GMOA had no qualifications or expertise to critique the FTA and hence should not be speaking about it. He said that they were "fish out of water" when talking about matters relating to economic and business matters.

"The GMOA says that the FTA has a lot of shortcomings and that we should not have entered into it. They say a lot of things, but what do doctors know about economic matters? The details regarding the FTA have been discussed between industry professionals and related professional associations. We have entered into negotiations with the best interests of the country at the helm. We also have a section in place to resolve any shortcomings or concerns after a year from entering into the agreement," he said. Mannapperuma noted some of the FTA's important clauses that are going to improve the economic status of Sri Lanka and the goals that they hoped to achieve in light of the agreement.

"We can send our local products to Singapore for low tariffs but they cannot send us products in the same way due to the tariff lines imposed by us. Through the SLSFTA, Singaporean products can be imported here with 80% of tariff lines removed. We also hope to use their trade relations to establish factories in Sri Lanka. Investment of Singaporean business in our country and to establish factories to improve the infrastructure of the country are the main goals of this FTA," he added.

UNP...

Deputy Minister Mannapperuma also said that signing the SLSFTA was a major step forward by the Government. He said that it would be greatly beneficial to the economic status, the job market and to attract more investment into the country.

"After we establish the FTA, we have many advantages. Our local raw materials are being used to attract investment. We also have an extra source of foreign income if they decide to export our raw materials too. It can also be exported as value-added products. If they decide to establish factories or workplaces in Sri Lanka, locals would get predominantly employed. Then the employment issue will also get resolved. We would also get an export income through this too. In these aspects the SLSFTA, in the business sector and the economic sector, can be considered a major step forward," Gunawardena said.