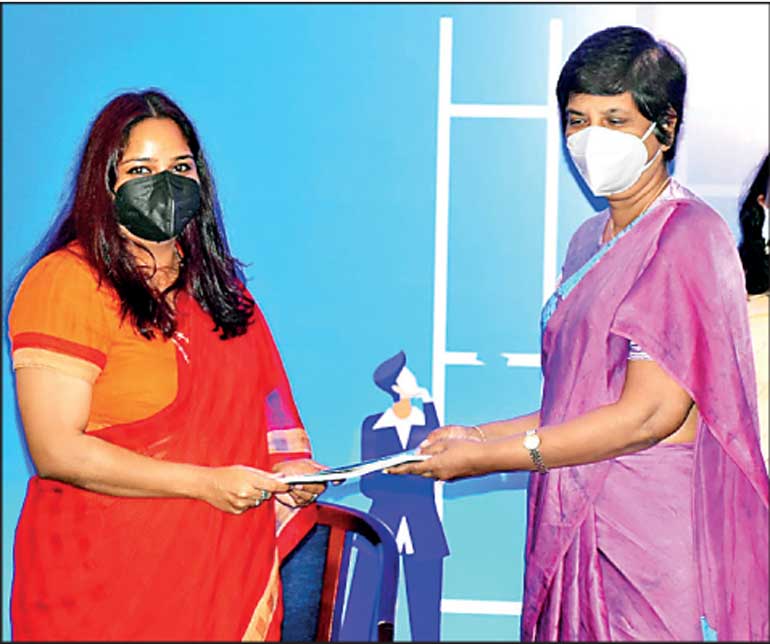 UN Women Sri Lanka Country Focal Point Ramaaya Salgado (left) handing over the report to State Minister Primary Health Care, Epidemics and COVID Disease Control and Women Parliamentarians' Caucus Chairperson Dr. Sudarshini Fernandopulle

- Pix by Upul Abayasekara
New UN Women report provides roadmap to take long-term economic decisions
UN Resident Coordinator Hanaa Singer-Hamdy says till level-playing field is enabled for SL women, their education will remain unutilised in workforce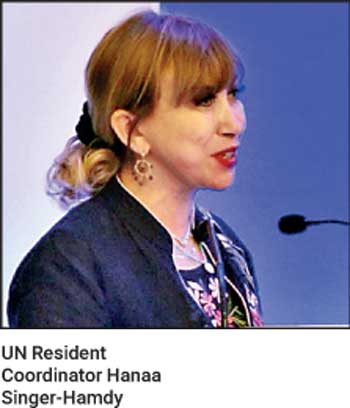 By Randima Attygalle

United Nations Resident Coordinator Hanaa Singer-Hamdy yesterday insisted on harnessing the full potential of Sri Lanka's female workforce, to overcome from the unprecedented economic challenges at present.

She made these remarks at the launch of a report by the UN Women yesterday, titled 'Gender Disparities and Labour Market Challenges: The Demand for Women Workers in Sri Lanka'.

Urging the policymakers to consider the report in long-term economic decision making, Singer-Hamdy added that until a level-playing field is enabled for Sri Lankan women, many who have considerably invested in their education will remain unutilised in the workforce.
The report co-authored by Dr. Ramani Gunatilaka and Prof. Sunil Chandrasiri is amongst the first in Sri Lanka to illustrate the largely unexplored factors on the part of employers and companies that prevent women from entering the paid workforce. It also envisages to provide a roadmap on which government and corporate policies are critical to support women's full engagement in the labour force.

In 2019, only 36% of Sri Lankan women of working age were willing and able to engage in paid work. The newly launched UN Women study examines the barriers which keep women out of paid employment including gender based segregation of jobs, employer-perceptions, skills deficits especially in English language and the legal framework which constraints employers from offering flexible working hours and night work for women.

"The Global Gender Gap Index has consistently noted that the gap in economic participation is the most pronounced gender gap for Sri Lanka and it is in fact the 14th largest gender gap in labour force participation globally," remarked the UN, who added: "It is a bit shocking and Sri Lanka should not be there."

UN Resident Coordinator said the fact that Sri Lanka has not been successful in translating the high academic gains of Sri Lankan women in the labour force is a 'missed opportunity' and urged women to take full advantage of the investments they have made in their education.

This is ironic in a context where the gross enrolment ratio for women in tertiary education in the country is 26.7% (as at 2020) as opposed to male ratio of 16.6% (as at 2020). Women accounted for only 24% in managerial level positions in the first quarter of 2020.

UN Women Sri Lanka's Country Focal Point Ramaaya Salgado said that women's ability to participate equally in existing labour markets and their capacity to meaningfully participate in economic decision-making at all levels is central to realising women's rights and gender equality.

She also pointed out that the policy directions laid out in the study will help serve as a guide for the Government, the private sector and non-governmental organisations (NGOs) in taking action to increase women's participation in the paid workforce.

During the launch, the UN Women report was officially presented to State Minister of Primary Healthcare, Epidemics and COVID Disease Control and Women Parliamentarians' Caucus Chairperson Dr. Sudharshini Fernandopulle.

State Ministry of Women and Child Development, Pre-Schools and Primary Education, School Infrastructure and Education Services Secretary Kumari Jayasekera said that the findings of the report will help to address gender barriers in the Sri Lanka's workforce at a ground level for which multi-sectoral participation is essential.

The policy recommendations include the formulation of macroeconomic, industrial and trade policies, promotion of SMEs, female entrepreneurship, ownership and management, labour law reforms, promotion of digitisation, automation and work from home arrangements and having family-friendly workplace policies which support the retention of women employees even after marriage.

The launch was followed by a panel discussion with key officials representing the Government, civil society and the private sector.