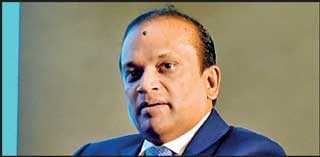 Ashok Pathirage
SriLankan Airlines said yesterday it will step up the country's fresh push to woo tourists by starting twice weekly flights to Russian capital Moscow from February.
"As the national carrier we are ready to attract tourists now that the country has reopened the borders, which we actively campaigned for," SriLankan Airlines Chairman Ashok Pathirage told the media yesterday.

He said plans are underway to look at new destinations and SriLankan Airlines hopes to start flights to Moscow by mid-February. SriLankan last operated to the Russian capital in 2014 and is planning to deploy two flights per week.

Pathirage said that Russia was considered as an immediate new destination given the resilience of its outbound tourism market.

Russia was the seventh largest source (4.5%) market for tourism in Sri Lanka in 2019. That year saw arrivals from Russia hit an all-time high of 86,549, a 34% increase from a year earlier, with its flag carrier Aeroflot's expansion of services to Colombo playing a key part. The previous high for Russian tourists was in 2014 amounting to 69,718.

The national carrier was also encouraged by the success of the pilot project of attracting Ukrainian tourists from late December 2020. Since then, around 1,500 Ukrainians have arrived in Sri Lanka via Ukraine International Airlines and charter carrier SkyUp.

Hot on the heels of the Ukrainian initiative, Pathirage last month told the Daily FT that SriLankan will start promoting passenger flights out of Frankfurt, a popular air hub in Europe.

The national carrier will today fly in 14 tourists from Europe, including 11 from Germany and two from Switzerland.

---
---
---