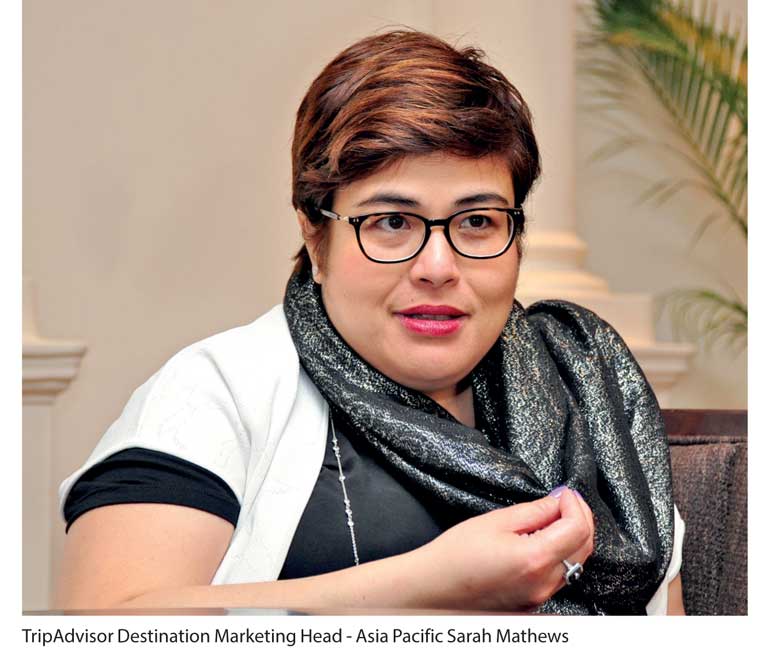 TripAdvisor's Head of Destination Marketing in Asia Pacific Sarah Mathews recently paid a brief visit to Sri Lanka to discuss and explore the possibilities for the next phase of growth in the tourism sector with top Government officials and industry stakeholders.

Being a frequent visitor of Sri Lanka she was highly impressed with the progress of the tourism sector over the recent past.

Mathews took time off to speak to the Daily FT about the destination development opportunities and challenges, key influences in marketing, global trends, areas to be improved and her most unforgettable experiences in Sri Lanka.

Following are excerpts of the interview:
By Charumini de Silva
Q: What was the purpose of this visit?
A: We wanted to meet with the Government. It was really an opportunity for us to sit down with the key officials of the industry and have a conversation about how we can support the Government. We discussed, shared insights and analysed on products that need to be developed for the next phase of growth with the Tourism Development Minister, Sri Lanka Tourism Promotion Bureau (SLTPB) Managing Director and industry stakeholders. It was an opportunity to share ideas about travel, tourism, TripAdvisor and online reputation management with some of the industry stakeholders. We will work to support the needs of Sri Lanka and the Government as they see fit.
Q: How would you rate Sri Lanka's position as tourist destination?
A: I think it depends on how you look at it. Sri Lanka is really growing and we have seen this growth in the last few years. In fact, people searching for Sri Lanka content has grown by 12% globally, which is amazing. It is travellers discovering more about the country and as TripAdvisor we are seeing that growth.
Q: What should Sri Lanka work on to improve its attractiveness/success in the backdrop of growing traffic to this region?
A: I would say that Sri Lanka is just naturally beautiful with a lot of interesting products for travel already – not only the beaches, mountains, tea plantation, art, culture and the people of course. I think what is really important is sharing those stories and getting travellers to discover more of Sri Lanka, not just what is in Colombo. It is about discovering about what the entire country has to offer and that really requires more travellers to share their experiences but also for more of the locals to share their experiences. So, the more locals passionate about their country and share those stories is what really helps to drive the global interest as well.
Q: Could you elaborate on the key influences that will drive future thinking in terms of tourism marketing?
A: There are few factors. I think key factors in destination marketing is to continue sharing those stories and experiences, but at a much bigger level. Thinking about how technology has evolved the world, is the same way those we how technology has evolved in travel. The world continues to evolve and we notice that everybody is on their mobile phones. Mobile is really important, it is not about future. It has already been here. We see more and more people using their smart phones really diving into the content searching, sharing stories. As the world continues to change, we can see that travellers consume content at all times. What travellers are looking for exactly is the same process and to be inspired. We hear about other people being to Sri Lanka and share what they did, their reviews, share photos and videos, which are going to inspire me to come to this country experience and do more. It is not different from how we have always travelled, we just need to showcase those stories and nowadays that is really done on someone like TripAdvisor and most likely you are going to be look at that content in your mobile phone.
Q: How well do you think Sri Lanka has shared its story to woo new travellers?
A: I think, there are stories shared, but I would like to see more. I think it is more important to hear from the local community on places to eat, shop, entertainment, nature. Especially when you hear the local stories, you get the undiscovered gems of the country. It is a great way for travellers to discover that and go beyond just a one city. I think the Government is working really hard, building up content. The content building exercise is really a collective force, which requires your industry, individuals who live in a country and the Government working together. Travel is a very community based broad industry; it involves so many different aspects. It is not just the hotels, hotel staff; but the fishermen who bring the seafood or the farmer who produces the rice, it is the florist who brings in the flowers.
Q: What are the key destination development opportunities and challenges?
A: I think quite a lot of Sri Lankan operators need to be more in the online space particularly making sure that their products are bookable online and bookable on mobile devices. We see this more and more in the travel space where people are booking through their mobile. Being able to book on mobile device, operators are more likely to get share of valet which is so important and I think that is one of the key areas they need to focus on; especially for places beyond the capital. It is important to engage the SMEs in the digital space and how online representation works. In a way, it is really easy — but you got to give them the tools to take and run with it.

The other aspect is looking at insights such as the trends we see globally and sharing that with the industry as well. In our discussions we spoke about mobile check-in, how many hotels in Sri Lanka are doing that and the necessity of it; so those are areas we can provide information and insights for the industry to work collectively to develop the next phase of the travel space. In terms of the opportunity, tourism has not been a big factor until quite recently. So, a lot of people in the world it is an undiscovered gem, which means there is so much to be shared, showcase and tell the world.

The key for destination development is to keep the stories authentic, building products that are true to the DNA of Sri Lankans, enhancing products that are sustainable for all stakeholders and engaging the local community. We need to make sure it works for everybody and they feel that sense of ownership. It is really an exciting time for Sri Lanka and I look forward to see more of what the country is going to do.
Q: Currently we see that many destinations are struggling to use data to manage tourism growth. How can this be addressed?
A: The world is full of insights, there are data everywhere. It is important for the industry and the Government to put together a strategy and pull it together with the data points. Sometimes we need a lot of data and sometimes not so much. Therefore, it is really imperative for the Government and the industry to really define what they want to understand about the traveller and then they can build up a set of insights help them dictate the right audience and find the right experiences and products for those travellers. I think the key is to embrace it not to fear it.
Q: How can we tilt the balance in favour of Sri Lanka as a tourist hub?
A: Well…connectivity is going to be a big part of that. I think Sri Lanka has a fairly good system. For example, I'd say Sri Lanka's Visa system is very fast and easy to use. If the country is aiming to become a hub, it is important that the airport have some level of adaption of 'smart tourism' practices with e-passport gates to make travelling smoother, particularly for the domestic audience first. You also have to look at airport capacity to become a hub.
Q: What are the key attributes that make TripAdvisor stand out?
A: TripAdvisor is a community site; it always has been for the past 17 years. We pride ourselves being a community site — it is a platform for travellers and for businesses. Whatever size of business, whether it is a small coffee shop in the middle of nowhere, to a large hotel; we welcome everyone to share their business and experiences to the travellers. We welcome the travellers to share their experiences and that is where we have seen continued growth. We have 455 million users coming to the site a month, 517 million reviews and opinions on site and we have over 290 user contributions per minute – so when you think about this volume, engagement, content mostly from travellers becomes a really powerful tool. Considering the content, it helps people to discover the travel landscape and search for right places based on individual needs. From planning to the end destination TripAdvisor has all of that information to support travel needs. TripAdvisor is constantly evolving and adapting to the needs of the traveller and we have listened to our partners and audience, which I think makes us who we are, why we are so large and why we continually grow.
Q: What's your first impression about Sri Lanka as a tourist?
A: I was amazed by the art and culture of Sri Lanka. I've been to Sri Lanka about six short trips, but frequent, which is important. I fall in love with the country every time I come. I love shopping when I am here; it is one of the favourite things I like doing. There are a couple of favourite shops that I love to visit when I am in Colombo. I love the architecture and crafts of the country. I think because of the history and the unique position that Sri Lanka had in terms of history, has produced some really amazing things to see and experience. I've been to Colombo, Passikudah, Negombo and Galle. From what I have seen so far, it is never a hard decision to come to Sri Lanka.
Q: What's the greatest memory you have in Sri Lanka?
A: Sri Lanka is an incredibly beautiful country. One of the best experiences I have had was on the Vesak day. I travelled from Galle to Colombo and along the way I was offered drinks, tea, coffee, ice cream, sweet potato by everyone. They were all alms; and I thought it was a real sign of the character of the Sri Lankans. I have not seen that magnitude of generosity at national level before. I think it is something Sri Lankans should be very proud of and it is my greatest memory of Sri Lanka.

Pix by Lasantha Kumara