Says Govt. will extend concessions to public to ease economic burden
Claims Easter attacks started decline which is compounded by COVID-19 outbreak
---
The Government's first Budget which is scheduled to be presented to the Parliament mid-November will introduce a stimulus package aimed at reviving the battered economy, Trade Minister Bandula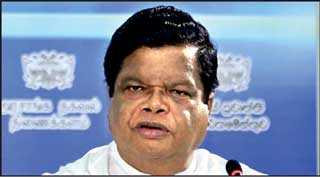 Trade Minister Bandula Gunawardana
---
Gunawardana said yesterday.

Responding to a question raised by the Leader of the Opposition Sajith Premadasa, Gunawardana said the Government would extend the concessions provided on leasing and loans along with many other concessions.

"This Budget will take the form of a stimulus package," he said.

He said that it was s not only Sri Lanka's economy, but economies around the world which were in shambles in the face of the worst economic crisis since the Second World War.

However, he said prior to the setbacks suffered due to COVID-19 pandemic, the Easter attacks had already started the decline.

Gunawardana said that the decision to impose the Maximum Retail Price on certain goods and restricting imports was to help consumers, producers and suppliers and consumers.

Premadasa questioned what steps the Government intended to take to revive the economy and sectors such as tourism.