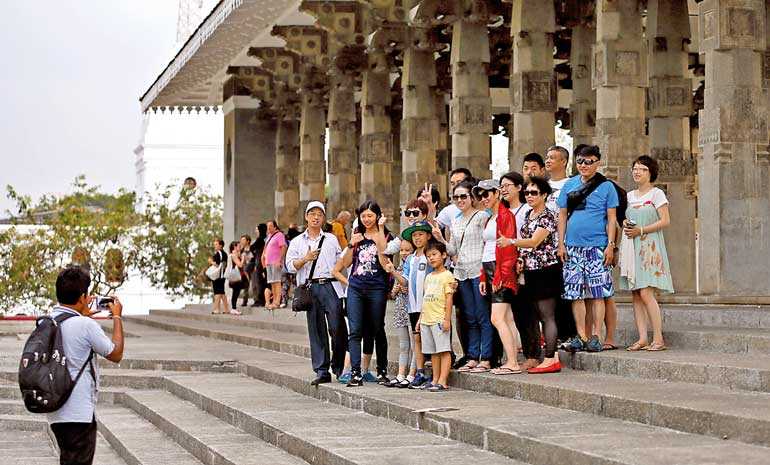 Sri Lanka ends 2018 with 2.33 million tourists, up 10.3% over 2017
Though missing 2.5 m target growth in 2018, highest since 2016, comes following 3.2% gain in 2017
December arrivals highest ever of 253,169
By Charumini de Silva

Tourist arrivals grew at a faster pace in 2018, despite missing the 2.5 million target thanks to a record haul in December, official data released yesterday confirmed.

Sri Lanka ended 2018 with 2.33 million tourists, up by 10.3% over 2017, in which year the increase was only 3.2%. In 2016, arrivals growth was 14%.

Tourist arrivals during December reached a record 253,169, up 3.5% from a year earlier. In terms of arrivals, February, March, June and November recorded the highest growth rates in 2018, while December had the highest number of tourists.

The record haul in December overshadowed industry concerns following the political instability following 26 October, which was a likely cause of the country missing the 2.5 million arrivals target by 166,204 in 2018. However, Sri Lanka has missed original annual targets since 2016.

Sri Lanka recorded its highest growth, 46.1%, in 2010, following the end of the near 30-year-old conflict. Thereafter, the growth trajectory saw a downward trend in 2011 and in 2012, posting a 30.8% and 17.5% growth respectively. However, in 2013, there was a positive growth of 26.7%, which subsequently went on a descending trend for four years.

Tourism Development Minister John Amaratunga said Sri Lanka would have achieved the originally-set target of 2.5 million arrivals target, or surpassed it, if not for the political upheaval in post-26 October 2018.

"A realistic, but ambitious prediction at this juncture is the four million tourist arrivals and $5 billion income this year, with Sri Lanka being declared top destination to travel in 2019 by Lonely Planet. Therefore, we are confident with the ongoing and upcoming promotional activities, Sri Lanka can achieve four million tourist arrivals and $5 billion income by end of this year. I pray and hope we will be able to go forward without any further obstacles or disruption from any quarter," he told Daily FT.
Sri Lanka Tourism's branding and marketing campaign 'So Sri Lanka' debuted at World Travel Mart (WTM) in London last November, and is planned to launch the much-anticipated global tourism promotion campaign as well as the newest logo in March this year at the ITB in Berlin.

The Minister expressed his confidence that the country would continue on the growth trajectory, capitalising on the newest promotional campaigns and initiatives underscored in the 2017-2020 Tourism Strategic Plan (TSP).

Amaratunga also reiterated that there was no other country in the world which could offer a travel experience in a compact island like Sri Lanka.

According to Amaratunga, Colombo has the opportunity to be seen as a hub for entertainment in the future, with the ever-burgeoning investment and development of tourism here.

"Indubitably, Sri Lanka has many diverse attractions that appeals to a wide spectrum of travellers from across the world. While we develop and further sustain the natural resources and attractions that are bountiful from a local standpoint, it is also important to consider expanding the local offering when it comes to the aspect of entertainment," he added.

Amaratunga also said while the Government initiates the policy framework, and provides an advantageous environment for growth, it is the responsibility of all stakeholders to work towards achieving these goals, which will set the pace to bolster Sri Lanka's tourism offerings.

He said they hoped to promote home-stays, where small-scale businesses would receive some share of the benefits from tourism to uplift their livelihood and rural economy.

The Minister also noted that this could mean that tourism will be the number one foreign exchange earner in the near future.